Content Warning: This page discusses issues of mental health, which, although not graphic, may be triggering for some readers. Please read with caution.
Yamikawaii (病みかわいい) is a Japanese aesthetic that was derived from YumeKawaii with a strong emphasis on sickness motifs. It is part of Anti-Kawaii which adds opposing elements to typical the kawaii style in to leave a greater impact. As the word yami means both "sick" and "dark", it revolves around not only medical but also dark themes related to mental health.
It is often confused with the Gurokawa trend, which revolves around horror and gore, but Yamikawaii has a more feminine spin to it with lots of anime-style illustrations and is not bloody or gory.
Menhera-chan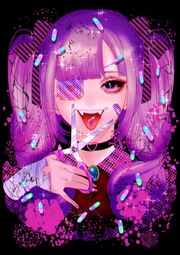 The original character and manga series "Menhera-chan" by Ezaki Bisuko in particular is credited to have helped the spread of Yamikawaii. The development behind the whole thing was, as you can guess, not a particularly nice one.
Ezaki Bisuko's parents divorced when he was a child, from which he suffered all his childhood. During this time, he had to endure many insults and humiliations, which caused him to develop a mental illness.
The story behind Menhera-chan is anything but beautiful, as she and her story were originally created by the artist as a form of vent art. The story follows a group of girls who transform into heroines of justice with a magical cutter to fight the evils of the world. Through Menhera-chan and Bisuko, the supporters of this movement found a creative outlet. The content can be very questionable on the one hand, but on the other hand, it helps people to break the silence regarding their problems. He regularly receives messages from people that Yamikawaii and Menhera-chan them.
Fashion
Yamikawaii in fashion doesn't have many rules. The motifs of the clothing combine opposing things like cute looking text styles with depressive texts. For instance, a pastel pink shirt with bubble lettering will have a "yami" message, like "I want to die" or "Kill you." Images such as guns, pills referencing medication addictions, and other disturbing themes are common and have to be present in some form to make the outfit no longer simply kawaii, but Yamikawaii. There is a wide range of makeup styles that can be worn within Yamikawaii, but undereye blush, also known as byojaku, seems to be the most common. The sickly look of the red or pink eye makeup is further enchanted by drawing puffy eye bags.
Websites & Stores
Art
A notable artist within this aesthetic is Kazuhiro Hori, not necessarily a pioneer in the spread Yamikawaii, but an artist of the aesthetic nonetheless. His art includes nearly all key themes and usually encompasses traditional Japanese schoolgirls in disturbing situations and often involving harmless icons, such as teddy bears, engaging in ominous or dangerous activity. He also provides an example of the aesthetic's more realistically styled art, as opposed to the very anime-styled majority.
Music
Popular idol groups within Yamikawaii include:
Spotify Playlists
Gallery
Community content is available under
CC-BY-SA
unless otherwise noted.