Wonderland is an aesthetic based off the feeling of being lost and far way from home, but being okay with it.
Visuals
Wonderland images and visuals usually consist of a darker setting. The images evoke a feeling of being lost, or away from home. On the contrary, many wonderland images also contain crazy patterns, bright visuals, and sometimes psychedelic imagery. Many of the images are identifiable because of the dark colors in the background with light colors in the center.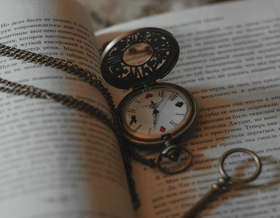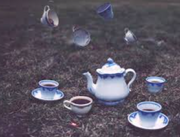 Hobbies
Hobbies in wonderland aesthetic may include:
Collecting items/ building up a collection
Taking walks
Reading a book
Painting or making things
Setting up tea parties for your mad friends
journaling
Games
chess
war
black jack
risk
Hobbies in this aesthetic mostly include solitary activities.

Music
Music that is typically deemed Wonderland is mainly very chill, but with little surprises not everyone will notice...
music such as:
The White Rabbit - Jefferson Airplane
Mad Hatter - Melanie Martinez
Freak - Sub Urban
The Alice in Wonderland (2010) soundtrack - Danny Elfman
Beethoven's 5th Symphony - Beethoven
lofi dark -any lofi channel on halloween
Fashion
Fashions for this aesthetic consist of comfortable clothing and clothes that could be similar to Cottagecore.
Sweaters
Loose jeans
Sweat pants
Crew socks
Sneakers
Pinafore dresses
Ankle strap shoes
Sweatshirts
Trench-coats
bowties
Literature
Literature that is typically deemed Wonderland includes:
Alice's Adventures in Wonderland - Lewis Carroll
Heartless - Marissa Meyer
The Looking Glass Wars - Frank Beddor
After Alice - Gregory Maguire
Sub-Genres
WIP
Videogames
Gallery