Raise a Floppa - The Loop
Play Sound
Witch House is an aesthetic that originated with the music genre of the same name. It often (but not always) fits into the electronic sub-genre, and/or has themes that are dark and revolve around the occult, the supernatural, and horror.
Visuals
While Witch House definitely revolves more around music, it has been visually interpreted, taking a lot of cues from the Vaporwave school of aesthetic thought. It has been interpreted in three ways, which have sometimes been known to merge:
Revolving around more tech-y visuals with dark undertones.
Revolving around more actual witchcraft, in the sense of Pagan magick and/or Wicca.
Revolving heavily around the dark aspect, often using imagery that may be found in horror.
While there is a lot of crossover with the Witchcore aesthetic, make no mistake: Witchcore takes more of a nature-based approached compared to the more dark tech-y Witch House aesthetic, which can also invoke Satanic imagery on top of everything.
Fashion
Witch House fashion can draw upon a lot of Nu-Goth, Streetwear, Techwear, and Vaporwave fashions (although in the case of the Vaporwave inspirations, it's done less in the bright colors often associated with it and instead uses more of a monochromatic color palette with hints of red mixed in). Witch House fashion can also draw upon a lot of 90s Grunge and Mallgoth fashion choices as well.
Music
Musically, Witch House has a droning, dark, and gothic sound to it that's designed to evoke a gothic atmosphere that works surprisingly well with the House music format.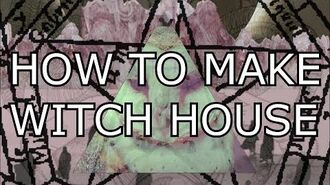 Spotify playlists
Gallery