World of Warcraft: Dragonflight - The Loop
Play Sound
Vacation Dadcore is a style aesthetic focusing on Hawaiian prints, socks and sandals, wide-brim hats, tan lines and that relaxing vacation lifestyle. The aesthetic stems from the low effort, comfortable but also practical style commonly worn by dads on holiday. Each dad is different and thus the aesthetic is diverse; polo shirts, button-downs or even vests are all well within the Vacation Dadcore aesthetic, as it only truly is Vacation Dadcore if you don't really care what you're wearing and just want to get a tan.
Visuals
The Vacation Dadcore was inspired from the Miami beach movement circa 1974, and as a result, most of its imagery is stolen from this era; a time of handlebar moustaches and glorious shirts.
The '70s kids that didn't let this style die brought socks and sandals to the scene for the '90s, beige-en-ing the palette whilst keeping the style of the flower necklaces and aviators.
Popular imagery associated with Vacation Dadcore includes blue oceans, wide sandy beaches, little huts selling booze at like 10 am. Palm trees and cruise-liners in the distance. Hawaiian shirts, distinct tan lines paired with bushy moustaches, and late-night bowling alleys.
Other popular Vacation Dadcore vibes include:
1970s - 80s Miami
Vibrant Colors
Neon Lights
Gold Chains
Hawaiian shirts
Poolsides
Fashion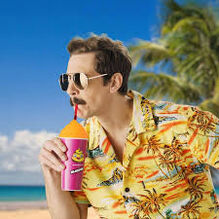 Think of 70s detective on a poolside holding his 9th piña colada, emulate this.
Here are some simple outfits you can try at home:
The Hawaiian Classic:
The Disney Dad:
Mickey mouse ears
Very large camera
White trainers
Beige/tan cargo shorts
The 70s Cop:
The Hawaiian Classic
Aviators
A tucked in Hawaiian shirt
Blue jeans
The Yacht Dad:
Polo shirt
Woollen jumper wrapped around the neck
Sunglasses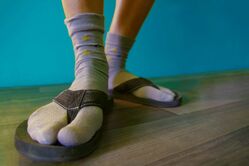 The Drinking Buddy:
Tattoos (if you have them)
A White vest/cutoff tucked in
Jeans with a cool belt
Boots
The Latin American Dad:
A Guayabera
Loose linen dress pants
A Panama hat
Loafers
Optional Items:
Socks and sandals
A Beard to go with the moustache
A Boozy cocktail in hand
A Sleek fanny pack
Hawaiian patterns for reference
Vacation Dadcore Vendors
Remember to check out some Thrift Stores!
Media
Music
Vacation Dadcore has no set genre of music but has more of a feeling associated with music; the songs must relax you and pair well with an alcoholic beverage but should be easy to dance to.
Examples of artists:
Spotify
Here are a couple Vacation Dadcore playlists to make you feel like Tom Selleck cruising in his iconic Ferrari 308.
Activities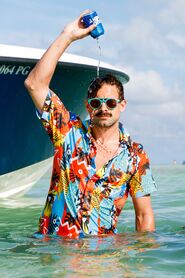 Some popular Vacation Dadcore activities include:
Hangin' by the pool
Chillin' on the beach
Making some Boozy Cocktails (see below)
Looking around Art Galleries, Museums and Zoos
Playing cards by the sea
Going to bars
Trying on new Hawaiian shirts
Growing a kick-ass moustache
Always leave before sunrise
Taking videos you will never rewatch
Always order your food in the language of the country you're in (even if you don't actually speak it). Repeat it if they don't understand
Haggling for prices
Chowing down of some delicious Chinese food
Getting hydrated from a juicy watermelon
Boozy Cocktails
Fun to make, better to drink!
Please drink responsibly and don't drink if you are underage.
Galleries
Vacation Dadcore Heroes
Vacation Dadcore Vibes
Some Links
Reddit