A few of my favorite things: white lace blouses, gilded picture frames, Italian cream sodas, my worn out pointe shoes, long walks alone, Miss Dior perfume, floral Lolita dresses, afternoons in the museum, too much blush, light blue silk ribbon, long text messages discussing aestheticism, chocolate cake, the color mint, train stations, botanical gardens, and porcelain tea cups.
Hello! I became fascinated with aesthetics when I first hopped onto tumblr in 2015 (peak tumblr era lol). I also sadly became attached to this superwholock-esque name during that time. After seeing the rise of many online communities and learning the importance of archiving as an art history student, I decided to help this wiki grow. My aesthetics lean on the soft pastel side; I wear sweet-classic lolita and girly Japanese fashion like in LARME magazine. Don't let the pink and lovey-dovey quotes fool you though. I am quite an asshole and conservative in my beliefs of whether certain aesthetics exist or not. (Not in politics though, thank God) I hope my entries and edits are helpful. Here's my general humor/fandom/current events tumblr [1] and here is my aesthetic tumblr. [2]
Icon is a picture by tadamimi on instagram!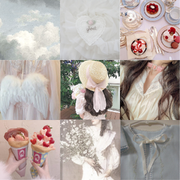 Community content is available under
CC-BY-SA
unless otherwise noted.