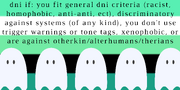 place your name here if you wish for us to dni with you:
here are the users we wish to dni us: @ImmiThrax, @Epsilloide, @SnowedLightning, @Lady Lostris, @Supreme Emperor, @.angelichare.
the system
(tw: animal traits + mention of animals, slight body horror, injuries)
‧͙⁺˚*・༓☾ ☽༓・*˚⁺‧͙
✨ Faye/Arsyn/Tamakie/Mason/Brick/Quinn/Tundra/Taiga/Alpine/Veld/Benthic/Abyssal:
✨ age: ageless
✨ species: winged arctic wolf
✨ gender(s): staticgender, gendervoid, goblincoric
✨ romantic attraction(s): trixic, ficto-toric
✨ pronouns: base pronouns are he/they/pup/it/coffee/?
✨ role: host/core
✨ typing quirk: doesn't capitalize besides proper nouns
✨neurodivergencies: adhd, ocd, anxiety, misophonia, abandonment issues
‧͙⁺˚*・༓☾ ☽༓・*˚⁺‧͙
Millie:
age: 20
species: elf
gender(s): demigirl
romantic attraction(s): panromantic (is married to Feral!)
pronouns: she/they/it
role: protector
typing quirk: none
neurodivergencies: anxiety
‧͙⁺˚*・༓☾ ☽༓・*˚⁺‧͙
Twins:
the twins are unique within our system, and function as a singular entity. we don't know much about them, other than they're not very friendly.
the one pictured on the left is a mute elf, and we call her #1. we can't remove the stitches from her mouth, we have tried.
the one pictured on the right is a blind zombie, and we call her #2.
‧͙⁺˚*・༓☾ ☽༓・*˚⁺‧͙
Chici:
age: 4-8
species: living porcelain doll (is Millie + Feral's child)
gender(s): questioning, but femme-leaning
romantic attraction(s): none
pronouns: she/doll
role: ageslider/little
typing quirk: none
neurodivergencies: adhd, also has a subsystem (subsystem's profiles will be added soon)
‧͙⁺˚*・༓☾ ☽༓・*˚⁺‧͙
Feral:
age: 20
species: vaguely human, has pyrokinesis
gender(s): masc-leaning nonbinary
romantic attraction(s): panromantic (is married to Millie!)
pronouns: he/rat/7
role: memory holder
typing quirk: none
neurodivergencies: aspergers
‧͙⁺˚*・༓☾ ☽༓・*˚⁺‧͙
fictives:
‧͙⁺˚*・༓☾ ☽༓・*˚⁺‧͙
🧡 Malix Sanders:
🧡 age: 19
🧡 species: unknown
🧡 gender(s): agenderflux
🧡 romantic attraction(s): uranic
🧡 pronouns: it/its
🧡 role: fictive introject
🧡 source: oc from Sanders Sides
🧡 typing quirk: none, does refer to self in 3rd person
🧡 neurodivergencies: depression
🧡 disconnect?: no, really attatched to source
‧͙⁺˚*・༓☾ ☽༓・*˚⁺‧͙
(this headmate is slightly problematic and users should be cautious when interacting)
🐍 Janus Sanders:
🐍 age: mid-to-late 20s
🐍 species: half-human, half-snake
🐍 gender(s): unknown
🐍 romantic attraction(s): unknown
🐍 pronouns: he/snake/yellow
🐍 role: fictive introject
🐍 typing quirk: none
🐍 neurodivergencies: pathological liar
🐍 source: Sanders Sides
🐍 disconnect?: no
‧͙⁺˚*・༓☾ ☽༓・*˚⁺‧͙
👑 Roman Sanders:
👑 age: 20-25
👑 species: humanoid
👑 gender(s): gender apathetic
👑 romantic attraction(s): pan angled aroace
👑 pronouns: he/red/prince
👑 role: fictive/body protector
👑 typing quirk: very fancy, proper grammar and punctuation
👑 neurodivergencies: unknown
👑 source: Sanders Sides
👑 disconnect?: no
‧͙⁺˚*・༓☾ ☽༓・*˚⁺‧͙
💙Logan Sanders:
💙 age: 18
💙 species: human
💙 gender(s): demiboy
💙 romantic attraction(s): questioning
💙 pronouns: he/blue
💙 role: fictive
💙 typing quirk: none
💙 neurodivergencies: ocd, adhd, anxiety
💙 source: Sanders Sides
💙 disconnect?: no
‧͙⁺˚*・༓☾ ☽༓・*˚⁺‧͙
🐶 Patton Sanders:
🐶 age: 19
🐶 species: human
🐶 gender(s): cis man
🐶 romantic attraction(s): questioning
🐶 pronouns: he/they/teal
🐶 role: fictive
🐶 typing quirk: none
🐶 neurodivergencies: seperation anxiety, abandonment issues
🐶 source: Sanders Sides
🐶 disconnect?: no
‧͙⁺˚*・༓☾ ☽༓・*˚⁺‧͙
💜 Virgil Sanders:
💜 age: 13
💜 species: human
💜 gender(s): demienby
💜 romantic attraction(s): questioning
💜 pronouns: he/storm/purple/🌩/⚡
💜 role: fictive
💜 typing quirk: none
💜 neurodivergencies: anxiety
💜 source: Sanders Sides
💜 disconnect?: no
‧͙⁺˚*・༓☾ ☽༓・*˚⁺‧͙
💚 Remus Sanders:
💚 age: 18
💚 species: human
💚 gender(s): questioning
💚 romantic attraction(s): questioning
💚 pronouns: he/green/rat
💚 role: fictive
💚 typing quirk: none
💚 neurodivergencies: conduct disorder, intrusive thoughts
💚 source: Sanders Sides
💚 disconnect?: no
‧͙⁺˚*・༓☾ ☽༓・*˚⁺‧͙
🟩 Double Trouble:
🟩 age: 20
🟩 species: shapeshifter
🟩 gender(s): non-binary
🟩 romantic attraction(s): aroace
🟩 pronouns: they/them
🟩 role: fictive/body protector
🟩 typing quirk: none
🟩 neurodivergencies: unknown
🟩 source: She-Re (netflix version)
🟩 disconnect?: no
‧͙⁺˚*・༓☾ ☽༓・*˚⁺‧͙
signatures
feel free to sign our page below! /gen: