Raise a Floppa - The Loop
Play Sound

Tropical is an aesthetic that is based on comfort, ease, and utility and is eclectic by definition. The style is characterized by warm and soothing themes and colors drawn mostly from natural elements such as the sea, sky, and vegetation (plants, fruits, flowers, etc). Hues may be deep and rich or may fall on the lighter, brighter side.
Visual
Tropical aesthetics are usually inspired by a tropical island, the beach, salty life, simple living and bohemian living. The clothes are usually beach friendly, mostly white clothes to help with the heat of the sun, beige colors, green and brown. This (currently) small aesthetic is closely related to Nautical and Bohemian.
The principles are inspired by survivalism and eco-friendly life. The visuals are strongly inspired by movies such as The Blue Lagoon, Nim's Island, Castaway, and Moana. Common visual cues in the Tropical aesthetic include:
Tropical islands
Caribbean sea
Beaches
Shipwrecks
Coconuts
Old clothes
Ocean
Sea animals
Fashion
Tropical fashion can go in any multitude of directions, but it's generally agreed upon that Tropical clothing is usually very lightweight and breezy.
For younger people, there might be a nod towards the Surfer look, such as oversized t-shirts, beach waves, beach bag, and a carefree attitude. These characteristics also tie into stereotypical surfer vibes, which are a large sum of the origin of this aesthetic. Many women may opt for swimsuits or bikinis or even wetsuits if they are also surfers.
For the more well-to-do, there is Resort wear (also known as cruise wear) is a fashion style that was initially only for customers of affluence who would travel abroad around Christmas and New Year's to warmer climates, but has since become a more common fashion aesthetic with the increase of both volume and accessibility in air travel. Resort wear is signified by its lightweight material, ease of cleaning, and don't need to be ironed at all. The look of resort wear can include a Nautical theme, Hawaiian prints, Mediterranean colors, and overall bright floral patterns combined with oversized hats, sunglasses, swimsuits, and open-toed shoes. Despite the ease of access to Resort wear for regular people, it can still be a signifier of relaxation, affluence, appreciation of nature, and a sharp sense of style. Even though there are stores that specialize in Resort wear (like Banana Republic, J.Crew, and Tommy Bahama), individual fashion houses will still create Resort wear lines in their individual collections (like Chanel, Prada, Marc Jacobs, and Michael Kors).
For older men, there is the Vacation Dadcore aesthetic, while older women may resemble something of a Karen.
Common clothing elements from Tropical aesthetics include:
Colours: White, brown, green and beige
Seashell jewelry
Swimwear and Beachwear
Crochet clothes
Second-Hand clothes
Thin and flowy fabrics
Straw hats
Leaves and flowers
Long salty hair
Decor
The decor is based on found things on the beach and seashells among other "castaway" related things:
Plants
Candles
Seashells
Stones
Silk
Wooden decor
Found object (around the beach)
Fruits
Painted and Handmade objects
Ropes and other ship items
Activities
Usually, Tropical-related activities revolved around the beach and the ocean, collecting things and being in the sunshine
Sunbathing
Swimming
Beachcombing
Collecting herbs, seaweed or rocks
"Fishing and collecting fruits for survival"
Planting
Boating
Building and crafting
Napping
Meditating
Surfing
Media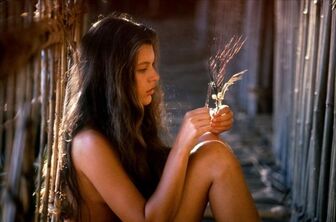 Movies & TV Shows
The Blue Lagoon (1980)
Return to the Blue Lagoon (1991)
Castaway (1986)
Cast Away (2000)
Moana (2016)
Six Days, Seven Nights (1998)
Waterworld (1997)
Kon-Tiki (2012)
Nim's Island (2008)
Survival Island (2005)
Splash (1984)
Gilligan's Island (1964-1967)
Pokemon The Series: Sun & Moon (2016-2020)
SpongeBob Squarepants (1999-)
Teen Titans Go!: Island Adventures (2016)
Books
"Castaway" by Lucy Irvine
"Robinson Crusoe" by Daniel Defoe
"Swiss Family Robinson" by Johann David Wyss
Music
Artists
Resources
External links to help get a better understanding of this aesthetic.
Playlists
Gallery