World of Warcraft: Dragonflight - The Loop
Play Sound

Trenchcore is an aesthetic inspired by a romanticised version of early modern and industrial warfare (predominantly World War One). It is centred on ideas of strong bonds with your friends and standing up for causes you believe in. Common themes associated with it are loyalty, long-distance relationships (platonic or otherwise), and Vintage clothing. Trenchcore is related to other aesthetics such as Royalcore.
Visual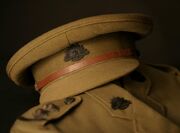 Visual references for trenchcore can include:
trenches
military uniform
horses
weaponry
barbed wire
ruined/abandoned buildings
etc.
Entertainment
Movies
Fiction:
1917 (2019)
Wonder Woman (2017)
War Horse (2011)
Private Peaceful (2012)
Joyeux Noël (2005)
Non-Fiction:
They Shall Not Grow Old (2018)
Gallipoli (2005)
The Battle of the Somme (1916)
25 April (2015)
14-18 (1963)
TV Shows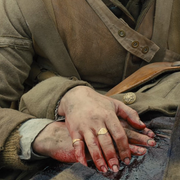 Fiction:
The Passing Bells (2014)
The Crimson Field (2014)
Anzac Girls (2014)
Our World War (2014)
37 Days (2014)
Blackadder Goes Forth (1989)
Non-Fiction:
The First World War (2003)
Books
Fiction:
A Farewell to Arms by Ernest Hemingway
Birdsong by Sebastian Faulks
All Quiet on the Western Front by Erich Maria Remarque
The Winter Soldier by Daniel Mason
The Regeneration Trilogy by Pat Barker
Fall of Giants by Ken Follett
War Horse by Michael Morpurgo
Private Peaceful by Michael Morpurgo
A Medal for Leroy by Michael Morpurgo
Non-Fiction:
Good-Bye to All That: An Autobiography by Robert Graves
Love Letters of the Great War by Mandy Kirby
Fighting Proud by Stephen Bourne
Black Poppies by Stephen Bourne
A World on Edge by Daniel Schönpflug
Forgotten Voices of the Great War by Max Arthur
A History of the First World War by B. H. Liddell Hart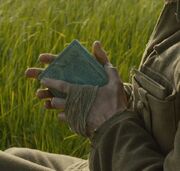 Poetry
Poems from the First World War by Gaby Morgan
Poetry of the First World War by Marcus Clapham
Some Desperate Glory by Max Egremont
The War Poets: An Anthology by Siegfried Sassoon
The Collected Poems of Wilfred Owen by Wilfred Owen
Other
Voices of the First World War (podcast)
War Horse (stage play)
Activities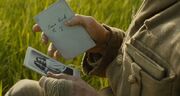 Sports
Equestrian
Football/Soccer
Wheelbarrow racing
Wrestling
Pillow fights
Shooting
Other
Playing cards
Sketching
Journalling/Diary keeping
Writing poetry
Reading
Handwriting letters to loved ones
Carrying around pictures of your loved ones
Singing
Getting merry with your friends
Visiting museums or historical landmarks
Visiting graveyards (respectfully, bring flowers if you can as WW1 graves are often empty, do not use graves as props for photoshoots)
Attending a memorial/parade to honour soldiers