Fire Emblem Warriors: Three Hopes - The Loop
Play Sound
Mature Content and Trigger Warning: The article mentions sexual motifs and gun violence.
---

This page is under construction. This is a page that will be part of a series on more anthropological approaches with interviews and noted influencers.
Trailer Park Princess combines elements of Americana, eroticism, poverty, horror, and femininity to create a feeling of nostalgia, unease, and deviancy. It incorporates many elements of Camp and Kitsch; it is a total subversion of what is deemed to be good taste in contemporary American society, as it openly celebrates identities that are shamed in American society: the poor, drag queens, sex workers and the kink scene, and rural "uncultured" communities. The users who post this content tend to come from an upbringing[1] that is of this "aesthetic," and the elements are personal and looked upon with fondness, rather than as a means of shock value and antagonization.
Additionally, the community contains many Nymphets and has strong overlap with the Morute community. Like many other pre-suffix aesthetics, the aesthetic is highly individualized and bloggers would typically combine or emphasize more on different aesthetics.
Inspirations
John Waters (Divine)
This page is under construction
Horror Movies from the 1980s
This page is under construction
Kinderwhore
This page is under construction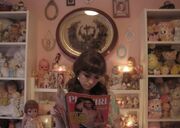 Origins
Nicole Dollanganger
This page is under construction
Lana Del Rey
Lana Del Del's work often features trailer park imagery, themes, and aesthetics, particularly during the Lizzy Grant era. Del Rey lived in a trailer park in North Bergen, New Jersey at the time.
Alpojones
Alpojones is a tumblr user who started posting content related to mannequins, dolls, and vintage imagery. They would often photograph images of their own mannequin
The name "Trailer Park Princess" was created for this wiki. Prior to this, the community was mostly untagged on tumblr, and posts that were found were tagged with Lizzy Grant, trailer park, dollette, nymphet, etc.
Visuals
Americana
BDSM elements such as latex, sissification, handcuffs, and ball gags
Beauty Pageants
Cigarettes and other drugs
Cluttered kitschy materials such as knick-knacks, crucifixes, and plates
Confederate flags
Diner sodas, sundaes and milkshakes
Dolls of different varieties, such as Barbies and bisque dolls
Elements of true crime, such as newspapers and milk cartons
Guns
Home videos and photographs from the 1950s-1980s
Las Vegas wedding chapels
Lingerie from the 1950s-1980s
Mannequins
Plastic pink flamingos
Religious imagery such as bibles, crosses, and religious statues
Run-down motels
Trailer parks
"Trashy" tattoos
Unglamorous sexual paraphernalia such as sex dolls and toys
Vintage Playboy magazines
Media
Movies
Pink Flamingos (1972)
Twin Peaks: Fire Walk with Me (1992)
Lolita (1997)
Trash Humpers (2009)
Gummo (1997)
Music
Lana Del Rey A.K.A Lizzy Grant (2010)
Gallery
↑ lovingrot (personal communication, April 15, 2021)