Raise a Floppa - The Loop
Play Sound

Traditional Goth (sometimes shortened to Trad Goth), also known as Batcave and Positive-Punk, came about with the original music genre in the late 70's and early 80's, making it based on the goth aesthetics of that time, hence the name 'traditional' goth. Trad Goths have been cited to listen to (but not be bound to) officially classified goth music, such as Goth Rock, Deathrock, darkwave, coldwave, minimalwave and ethereal wave.
The aesthetic is most often used in reference to the 80s British and Celtic Goth rock scene that developed in clubs like The Batcave, although it is a generalization. The truth is that Post-Punk and Goth came up all around the world during this time, including in America (Deathrock), Spain (Moldova/Sinestro), Japan, Germany (Grufti), Vienna, Argentina, etc.
It peaked in the 90s, but soon collapsed with the over-popularity of industrial/EBM music, which was associated with Goth (although it hadn't grown out of Goth rock or Post-Punk).
The Scene
Modern Trad Goths or OG Goths are devoted to the core Post-Punk-born musical scene, from the late 70s to the modern era. They also revere and respect "Elder Goths", namely individuals who experienced the 80s and 90s scenes.
Due to this devotion, they are often misunderstood and misconstrued as "elitists" and "gatekeepers" by people who like the clothing and aesthetic but don't put proper focus on the music involved. For this reason, many Nu-Goths and Pastel Goths are frustrated with Trad Goths and vise-versa.
In truth, most Trad Goths are extremely open-minded in terms of what constitutes Goth music and towards the modern scene. All that matters to them is the understanding that it did develop from Post-Punk, and understanding Goth as a legitimate musical genre with certain guidelines to its sound and subsequent evolution. They listen to all kinds of music, but they know the difference between Goth and other darkly inclined musical genres.
Unlike newer dark sub-cultures with the "Goth" suffix (like Nu-Goth and Pastel Goth) modern Trad Goths try to be mindful of the religious, cultural, and political iconography used (in comparison to the 80s and 90s scenes) in their fashion. They are well-read in these fields and understand the influences in the imagery they use.
In the modern era, much Trad Goth information comes from blogs like Post-Punk.com (vital to learn about new music in the scene and in related scenes) and YouTube channels/playlists by Cadaver Kelley and KaiDecadence.
It's important to remember that people of all religious, cultural, and political backgrounds are in and have been in the Goth scene since it began. They aren't limited in their style and aesthetic expression (ie, black is not always used despite its popularity in the scene). The only thing that draws them together is their love for Goth music, their appreciation of the culture's past, and an excitement over its future.
They can be found in Goth and 80s-rewind nights at clubs, coffee shops, bookstores, and record shops having stimulating conversations about literature, music, and the arts. They can often be spotted wearing DIY jackets covered in pins and patches of their favorite bands, exaggerated dark-colored eyeliner, and smoking clove cigarettes (with or without nicotine).
Music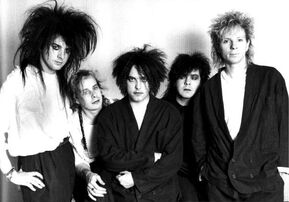 Music is incredibly important to Trad Goths. Here are some examples (mostly from the 80s just to show how many bands there have been around the world since then):
Goth Rock/Batcave
Bauhaus
Siouxsie and the Banshees
The Sisters of Mercy
Joy Division
The Cult
The Cure
Gene Loves Jezebel
The Virgin Prunes
The Specimen
Alien Sex Fiend
Xmal Deutschland
Madame Edwarda
Auto-Mod
Seres Vacios
Flesh For Lulu
Red Lorry Yellow Lorry
Zero Le Creche
Asmodi Bizarr
Exces Nocturne
Danielle Dax
Lords of the New Church
The Mission UK
Deathrock
Christian Death
45 Grave
True Sounds of Liberty
Patricia Morrison
Paralisis Permanente
Phaidia
Neva
Bone Orchard
Voodoo Church
Skeletal Family
Blood and Roses
Play Dead
The Birthday Party
Garden of Delight (80s)
Kommunity FK
Darkwave
Clan of Xymox
The Danse Society
The Vyllies
Astaron
Die Form
Kirlian Camera
Depeche Mode
Psyche
Ethereal Wave
Cocteau Twins
This Mortal Coil
All About Eve
Lowlife
Breathless
And Also the Trees
Black Tape For A Blue Girl
Neoclassical Darkwave
Collection d'Arnell Andrea
Dead Can Dance

Coldwave
Opera de Nuit
Martin DuPont
Dark Cabaret
Marc and the Mambas
Rozz Williams
Fashion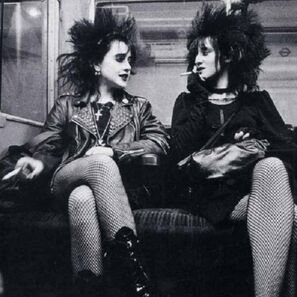 It's important to note that 80s Goth styles were far more varied than they became popular in the 90s. There was no restriction to black or dark colors and different bands evolved different looks. Because of this and because Goth is mainly a musical scene, it's possible for a Trad Goth to dress in any way they want to, particularly since the scene has had so many different looks and aesthetic facets.
In the 80s, they tended towards stereotypical Batcave and Trad Goth styles, Deathrock (which is a somewhat more punk variant), or the nameless ethereal, romantic, and bohemian type styles now grouped under Woodland Goth and Ethereal Goth.
Androgyny
Clove cigarettes
Ripped items
Tattered edges
Winklepicker boots
Platform boots
Cross necklaces
Black beads
Mesh gloves
Various piercings
Egyptian eyeliner
Teased hair
Dark red lipstick
Dramatic blush/contour
DIY effects
Trad Goth/Batcave Styles
Leather jackets
Short, low waisted skirts
Studs/Studded accessories
Fishnet
Band Tees
Spiky, puff-ball hair
Body paint
Western styles
Flat black hats
Felted coats
Mid-length skirts
Black and white
Inspired by Bauhaus, Specimen, Virgin Prunes, Alien Sex Fiend, and The Sisters of Mercy
Deathrock Styles
Wedding dresses
Dramatic hats
Veils
Opera gloves
Metal grommets
Military fatigues
Bright hair dye
Punk elements
Rips and holes
Vintage
Vibrant colors (like red or gold)
Inspired by Christian Death, 45 Grave, Kommunity FK, True Sounds of Liberty, and Patricia Morrison
Ethereal Goth/Woodland Goth Styles
Long maxi skirts
Lace details
Brocade and velvet
Kimonos
Puff sleeves
Pearls
Jewel tones
Draped scarves
Handkerchief hems
Bangles
Sequins and glitter
Inspired by Cocteau Twins, Dead Can Dance, The Mission UK, The Cult, and Gene Loves Jezebel
Subgenres
This is mostly using names and terms from the 80s before the term "Goth" was used. (This is also before the terms Ethereal Goth and Woodland Goth were used or fully delineated, so the generalization of 4AD is used to describe the aesthetic.)
Nico (of The Velvet Underground) is considered by most OG Goth bands to be the godmother of the scene. Frustrated with the twee folk genre she had been lumped into, she rebelled (with encouragement from Jim Morrison) and created the album The Marble Index in the late 60s.
This is widely considered to be the first Goth album (see the main Wiki page for Nico). For this express reason, Nico was later adopted into the 80s Goth scene. She performed with Bauhaus, opened for Siouxsie and the Banshees, and toured with Gene Loves Jezebel, thus cementing her status as an overlooked Goth legend.
UK - Batcave
The term "Batcave" is in reference to the niche British club The Batcave, which helped start the Goth (at that time called Positive Punk) movement in that country during the early 80s.
It was owned by Ollie Wisdom of The Batcave house band, The Specimen. What made it unusual at the time was that it exclusively played alternative/independent music and refused anything remotely "pop". As such, many other bands developed in this club including The Virgin Prunes, Alien Sex Fiend, and Danielle Dax.
Yet before The Batcave, in the late 70s, there were several bands that later performed there, and are now considered progenitors of Goth. Bauhaus, Siouxsie and the Banshees, and The Damned all appeared slightly before The Batcave, indulging in what they described as "punk" or (in Bauhaus' case) "dark glam".
The seeds these three bands had sown with their gothic, almost-costume fashions, morbid lyrics, and bass-driven Post-Punk lead to an explosion of bands that made music and used imagery in a similar vein (including the most famous, The Sisters of Mercy).
USA - Deathrock
Under Construction
Spain - Moldova/Sinestro
Under Construction
Germany - Grufti
Under Construction
Japan - J-Goth
Under Construction
Australia - Swampie
Under Construction
UK - 4AD
Under Construction
UK - Cureheads
Under Construction
World - 90s Goth
Under Construction

Other Media
Movies
The Hunger
The Company of Wolves
Vamp
Books
Some Wear Leather, Some Wear Lace: The Worldwide Compendium of Post-Punk and Goth in the 1980s
Comic Books
James O Barr's The Crow
Neil Gaiman's Sandman
Gallery