Raise a Floppa - The Loop
Play Sound
This page needs work. Please help us by expanding it. If you aren't sure how to help, click here.

The Tiki aesthetic (not to be confused with Tropical) was created by the opening of Polynesian-themed bars and restaurants in the 1930s. Tiki became popular after World War II, when America became fascinated with Polynesian and South Pacific culture.[1] Dim lighting, rum cocktails, tiki decor, hibiscus flowers, and nautical objects (such as maps, fishing nets, and netted fishing floats) are all aspects that make up the Tiki aesthetic.[2] The first major establishment to assume the Tiki aesthetic was a tiki bar called Don the Beachcomber, which Donn Beach opened in Hollywood in 1933. Many other establishments followed, some of the most famous including Trader Vic's, which Victor Bergeron opened in 1936 in Oakland, California, and Mai-Kai, which opened in Fort Lauderdale, Florida in 1956.
Examples
As mentioned above, the Tiki aesthetic is ever-present in tiki bars and other Polynesian-themed establishments. The Tiki aesthetic can also be seen in popular culture. A perfect example of this is the animated television show Spongebob Squarepants. The nautical-themed show is packed full of Tiki art, as seen in the backgrounds, title cards, and time cards of each episode.
Fashion
Leis (flower necklaces)
Vintage/retro tiki: Brightly colored floral print dresses with open toe pumps
Classic tiki: Brightly colored floral print dresses, sarongs, or caftans; natural fiber sandals
Modern tiki/tropical:  Brightly colored floral print dresses, mix and match tropical prints (palms, birds, coconuts, etc.), simple sneakers
Floral hairpieces with tropical flowers (hibiscus, orchids)
Hawaiian shirts with floral or batik print
Panama hats or other natural fiber beach hats
Fez hats
Visual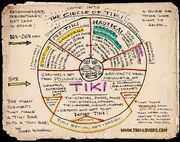 Bamboo and rattan furniture
Palm trees or fronds
Torches, fire
Hibiscus flowers
Orchids
Volcanoes
Carved Polynesian-style idols
Ropes and rope nets
Glass floats
Tiki mugs
Tropical storms -- monsoon rains, thunder, lightning
Activities
Drinking elaborate rum cocktails, either at home or at tiki bars
Collecting tiki mugs and other tiki memorabilia, such as vintage tiki bar menus
Hawaiian Vacations
Building home tiki bars
Going to tiki conventions:
Hosting or attending luaus
Books
On general Tiki culture -- anything by Sven Kirsten:
The Book of Tiki
Tiki Modern
Tiki Style
Tiki Pop
The Art of Tiki
Tiki culture with cocktail recipes:
Tiki cocktail recipes:
Music
Spotify Playlists
Gallery
Further reading
Critiki, a guide to tiki bars and restaurants
References