Synthwave (also known as Outrun) is a particular aesthetic that draws a lot of inspiration from the 1980s. While it does often get lumped in with Vaporwave, there are significant differences between the two genres. While it is particularly regarded as a musical genre, there are examples of synthwave in movies, TV shows, art, and video games.  The genre is credited as being started by acts such as College, Kavinsky, and Justice, although a fair argument could be made that the first big mainstream album evoking the Synthwave vibe and aesthetic could be traced back to the sophomore Daft Punk album, Discovery. 
The music strongly shares some key traits within the French House/French Touch/Italo Disco musical genres.  The true proto-synthwave acts actually came from musical scores of films in the 1980s created by the likes of John Carpenter (Halloween, The Thing, They Live, etc), Vangelis (Blade Runner), and Tangerine Dream (Firestarter). While the genre has started to dip in popularity slightly, there is still a very devoted following and a lot of musicians still sell decently.
Music
Synthwave music sounds like the natural progression of the 1980s film score, although some artists will take inspiration from the New Wave music that was popular then.
However, a lot of modern Synthwave music seems to be moving away from the 1980s and moving more into the 1990s, thanks to tracks like "America Online" by The Midnight. Some Synthwave artists include:
Spotify playlists
Movies & TV
Synthwave movies tend to look like movies that would've been popular back in the 1980s and some have even seen widespread theater releases. Some synthwave movies and TV shows include Kung Fury, Drive, Manborg, Hobo With a Shotgun, Turbo Kid, Thor: Ragnarok (yes, THAT Thor: Ragnarok), Stranger Things, It Follows, Ready Player One, Commando Ninja, and the upcoming Blood Machines.
Video Games
If any medium can compete with movies and TV in terms of taking on the synthwave aesthetic, it's video games. While most synthwave video games look like games that could've been played on an original Nintendo, there are some that have very polished next-gen graphics. Examples of Synthwave video games include Hotline Miami, Hotline Miami 2, Far Cry 3: Blood Dragon, Saturday Morning RPG, Trials of the Blood Dragon, Neon Drive, Power Drive 2000, Furi, and Double Dragon Neon.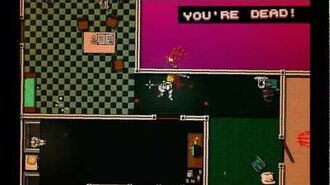 Fashion
The least-talked about in the Synthwave community is the fashion aspect.  The fashion tends to be heavily inspired by the fashion seen in 1980's movies and TV shows (especially shows like Miami Vice), but more casual 80's-themed clothes can be worn in the Synthwave aesthetic.
Synthwave Fashion
Gallery
Community content is available under
CC-BY-SA
unless otherwise noted.