GTA: The Criminal Enterprises - The Loop
Play Sound
This page needs work. Please help us by expanding it. If you aren't sure how to help, click here.

Rockabilly is an aesthetic that first emerged during the 50s in the United States Rock 'n' Roll scene. The name is a combination of "rock" and "hillbilly", the latter being an old term for country music. Thus, the aesthetic is usually used to refer to 1950s fashion and general style, as well as country music aesthetics.
Visuals
polka dots
milk shakes
roller skates
jukeboxes
red roses
poodles
paisley
skulls
old-school tattoos
pinup art
vintage cars
retro american diners
barber poles
Fashion
Clothing
Rockabilly fashion is one of the most interesting because it works with bold, rich colors and old-school style. Although it's not that common to see women wearing this style in the streets nowadays, the Rockabilly genre and its style is making a small comeback thanks to the ever-changing music scene and the growing trend of modernized 50's and 60's fashion.
There are many options when it comes to choosing tops for the outfit, from tank tops to crop tops to high-tie button-down blouses and more. Stripes and polka dots are the preferred patterns, along with solid colors. Red, white, and black are the base colors to choose. Pencil skirts and cuffed denim pants are very common lower wear.
Polka dot dresses are a staple in Rockabilly fashion and they are given a lot of importance. They're always loud and eye-catching, even if they're not brightly colored. Most Rockabilly dresses are form fitting, hitting just below the knee, but there are always variations, many being ruffled and slightly voluminous.
There are many styles of shoes with heels, a height of 7.5-10cm being the most common. Alternatively, there's also ballet flats, saddle shoes, converse, and creepers.
Hair & Makeup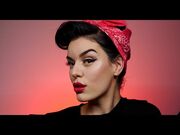 Black seems to be the hair color of choice when it comes to Rockabilly style and most common. Since most people aren't born with natural jet-black hair, it's usually dyed. One thing to keep in mind is that most hairstyles for women have curled parts, are pinned up, and often include hair accessories like flowers or small bows.
Various deep shades of red are used for the lips, along with winged eyeliner and mascara. Blush is applied to the apple of the cheeks to give a rosy hue and sometimes fake beauty marks are added.
Media
Celebrities
Movies
American Graffiti
Cry Baby
Grease
The Wanderers
Walk The Line
Music
Artists
Carl Perkins
Elvis Presley
Johnny Cash
Roy Orbison
Subgenres
There are a handful of styles that are similar or derived from Rockabilly. In fact, it's not uncommon for them to be confused or considered the same style, as there is usually little to almost no discernible differences.
These styles include:
Psychobilly: Essentially the same as the rockabilly style, but darker with an added horror factor. It can also feature skulls, ghosts, spiders, etc.
1950s Rock 'n' Roll : Since Rockabilly descended from the original Rock 'n' Roll, it is obvious that the styles are similar. The Rock 'n' Roll style of the 1950s is much brighter and more colourful.
50s Pin-Up : Usually mixed with the Rockabilly style for more formal occasions as they are basically the same thing, although it could also refer to sexier Rockabilly fashion.
Resources
External links to help get a better understanding of this aesthetic.
Vendors
Playlists
Pinterest Boards
Gallery