Raise a Floppa - The Loop
Play Sound
CW: This article contains descriptions of and NSFW photography
---

Pin-up modeling originated in the 1890s with the Gibson Girl drawings of Charles Dana Gibson, although the term 'Pin-Up' wasn't used until 1941. The style is mainly expressed by women, although men are rarely involved. Female models are also called Cheesecake models, while men are called Beefcake models.
Pin-up models would be photographed in anything from scantily clad clothing to being in the nude. In 1952 actress Marilyn Monroe was asked about her infamous 1949 pin-up photo (included in gallery) and said;
it's not quite true I had nothing on: I had the radio on.
History
Adverts for burlesque shows in the 1800s were the beginning of pin-ups, even though the term wasn't developed until the 1940s. The Gibson Girl style of the late 1800s is also apart of the pin-up past but in a different aspect.
Gibson Girls was a style based on Charles Dana Gibson's art. It's characterized by Edwardian corsets and Bouffant hair on women who were always keeping up with fashion trends. Unlike burlesque performers, Gibson Girls wouldn't show skin or perform for crowds. They wouldn't cover up in layers of shapeless gowns, preferring to wear close-fitting thin layered dresses to accentuate their curves. They were seen as the epitome of the modern woman; not afraid to go into the workforce, owning their sexuality, and displaying themselves confidently. This was controversial at the time and the public branded the behavior "slutty," a word which has no real meaning in and of itself but was historically disparaging.
An often overlooked part of pin-up history is the Black history facet. Many famous cheesecake models were white, but bombshells like Dorothy Dandridge and Josephine Baker remastered their corners of the pin-up industry in the 1920s and 30s.
Another artist that greatly contributed to pin-up's devolvement was Alberto Vargas in the last 1930s. Similar to Gibson, his drawings were called Vargas Girls. They were much more provocative, often appearing completely nude. Although they were more sexual, they were more admired for their natural beauty than their sex appeal.
War Times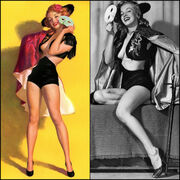 When the United States entered World War Two in late 1941, pin-ups became popular to boost drafted troop morale. Models we're seen as more sexual and kinky, often dressing up in military-inspired costumes.
From here, pin-up modeling went down two routes; innocent, playful, and suggestive; and naughty and BDSM like. The majority of pin-up modeling in the 1940s were the innocent/playful type (this is often called Gamine). Pin-up wasn't just photography, as many artists also painted pin-up models, like Earl Moran.
Zoë Mozert was also a huge part of the early pin-up community. She was a painter who often used herself as a model, equipping cameras and mirrors. She signed an exclusive calendar contract with Brown and Bigelow the same year that the U.S. joined WWII, 1941.
Most famous war-time pin-up models were women like Marilyn Monroe, Rita Hayworth, Betty Grable, Cleo Moore, Jayne Mansfield, etc.
Playboy era and Bettie Page's revolution
The magazine Playboy was a quintessential part of pin-up culture. It was founded by Hugh Hefner in 1953, and it's first issue included the 1949 photo of Marilyn Monroe by Tom Kelley. The magazine introduced the more kinky and BDSM side of pin-ups, with the rise of Bettie Page's fame. Page was one of Playboy's first playmates, which gave way to her fame.
Hefner described Page as "a combination of wholesome innocence and fetish-oriented poses that is at once retro and very modern.".
As her fame grew, so did her independence and public sexuality. In the 50s she started modeling and acting in fetish films and photos. She appeared in short "specialty" films where she acted out fetishes with only other women (important to note; this wasn't considered pornography necessarily, as no one in these films were ever naked). Because of her work in these films, she became known as the "Queen of Bondage" and "The Girl with the Perfect Figure". She often collaborated with model and photographer Bunny Yeager. Yeager was also a model, but never did pin-up or nudity, unlike Page.
Page became the first famous bondage model. Her short films had themes of abduction, domination, spanking, leather costumes, slave-training, etc. Her acting range was anywhere from Dominatrix to helpless victim. Her work in the BDSM industry introduced conservative 1950s America to sexual exploration. Her impact on the world and specifically the pin-up community is still seen today in celebrities like Katy Perry, Madonna, Beyoncé, and in the public.
Visuals
Black and white photography
Creams, red, pastels, black
Makeup and hair; Full, shaped brows; vibrant red matte lipstick in a "hunters bow" shape; water waves hair style; victory rolls; and Bettie bangs
Lingere
Female nudity
Delicate, soft looking women
Silhouette figures
Cheetah print
Tuelle
Satin
Tattoos on modern day models
Models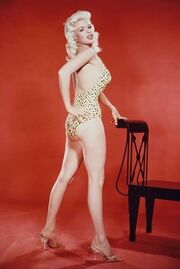 Golden Age of Hollywood (1900 - 1960s)
Cheesecake Models
Bettie Page
Marilyn Monroe
Josephine Baker
Betty Grable
Elvira
Kim Novak
Ava Gardner
Sophia Loren
Clara Bow
Carole Lombard
Brigitte Bardot
Lauren Bacall
Diana Dors
Hedy Lamarr
Dorothy Dandridge
Rita Hayworth
Jayne Mansfield
Gina Lollobrigida
Cleo Moore
Veronica Lake
Sandra Dee
Jean Harlow
Jane Russell
Eartha Kitt
Betty Boop
Beefcake Models
James Dean
Jim Morrison
Rudolph Valentino
Ramón Novarro
Johnny Weissmuller
Buster Crabbe
Tony Curtis
Rock Hudson
Tab Hunter
Jeff Chandler
Robert Conrad
Robert Wagner
Elvis Presley
Modern Day (1970s+)
Cheesecake Models
Cherokee Jackson (AKA thecherrydollface)
Claire Sinclair
Sarah Marie Summer
Dita Von Teese
Angelique Noire
Natasha Noir
Anna Nicole Smith
Jessica Rabbit
Beefcake Models
Pulp Magazines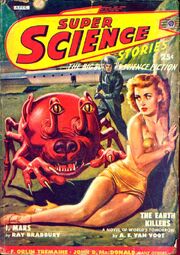 Pulp Magazines were cheap magazines from the late 1800s to the mid 1900 hundreds. They were also called "pulp fiction" "the pulps", "slicks", and "glossies". They were about 130 pages, and contained typical, mediocre fiction. Even though many renowned and respected authors worked on them, they were looked down on. Pulp magazine's featured pin-up art, called "pulp art".
These stories had a variety of genres but almost always had some sort of sexual and exploitative aspect. Some of these genres were:
Adventure
Spicy (soft porn)
War
Detective/crime
Fantasy
Horror
Romance
Science fiction
Westerns
Super hero
Origins
The first pulp magazine was Argosy, from 1896, although it featured no art. In the beginning, they cost a nickel, which gave them the name "dime novels", although this price would later change. Street and Smith was the next big magazine in the pulp industry at the time, and did include art. It's fame skyrocketed when their book Ayesha was made into a series in 1905. It also made the Lost World sub-genre more popular, influencing other pulp writers like Robert E. Howard, Talbot Mundy, Edgar Rice Burroughs, and many others. It's popularity raised the price to ¢15. This encouraged Street and Smith to begin adding other genres to their magazine like detective, romance, spicy, mix of multiple types (like spicy detective), etc.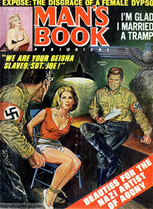 By the 1930s, the most popular pulp magazines were Adventure, Argosy, Short Stories, and Blue Book. These inexpensive magazines became one the major sources of entertainment during the great depression. However, during WWII, paper became more expensive, since most resources were used for the war effort, and pulps became more costly. This made the original appeal of glossies disappear, which began its decline. To combat the paper shortages, many company's switched to digest sizes, which made them more compact and small. The popularity of comics, televisions, and paperbacks also negatively impacted their deterioration. By the 1950s, the "Men's Adventure" magazine's took pulps place. These magazines also featured pin-up art.
Men's Adventure
Men's adventure magazines took pulp magazines place in the late 1940s up until the 1970s. They were also called "armpit slicks", "the sweats", or "men's sweat magazines". As the name suggest, these magazines were directed towards a male audience with stories of wartime adventures and enticing travels featuring pin-up girls. Pulp magazines like Argosy and Adventure eventually switched to sweat magazines. Other magazines popped up in the Men's Adventure genre like "Swank", "World of Men", "Cavalier", "Man's Epic", and "Stag". Because of World War Two, Nazi's and Communist's often took the villain role.
They almost always featured the trope of damsels in distress. The introduction of sexually-deviant behavior was likely influenced by Bettie Page's S&M films and photography. Books featuring women in peril almost always shows women exploited and in bondage. Occasionally though, it showed women in power and dominance. These dominatrix characters would dominate men as well as women, or even both.
Artists and Photographers
Artists
Earl Moran
Alberto Vargas
Olivia De Berarinis
Luma Rouge
Fiona Stephenson
Joyce Ballentyne
Irene Patten
Laurette Patten
Ruth Deckard
Arnold Armitage
Rolf Armstrong
Aslan
McClelland Barclay
Vaughan Bass
Edwin Georgi
Paul Rader
Milo Manara
Photographers
Bunny Yeager
Tom Kelley
Bruno Bernard
John Willie
Andre De Dienes
Peter Gowland
Frank Powolny
Media
Movies and TV shows
The Notorious Bettie Page (2005)
The Seven Year Itch (1955)
PinUp Girl (1944)
Gilda (1946)
Gentlemen Prefer Blondes (1953)
Hollywoodland (2006)
Calendar Girl Murders (1984)
Pin Up! (2015)
Music
Diamonds Are a Girl's Best Friend (Marilyn Monroe)
Put the Blame on Mame (Rita Hayworth)
Frank Sinatra music
Goodbye Norma Jeane/Candle In The wind (Elton John)
I Wanna Be Loved By You (Marilyn Monroe)
Valley of the Dolls (Marina)
Amada Mio (Rita Hayworth/Anita Kert Ellis)
Soda Pop (Britney Spears)
Material Girl (Madonna)
Honeymoon Avenue (Ariana Grande)
Tattooed Heart (Ariana Grande)
Lucky (Britney Spears)
Primadonna (Marina)
Books
My story (Marilyn Monroe)
Change-Makers: The pin-up book of pioneers, troublemakers and radicals (Matilda Dixon-Smith)
Veronica (Veronica Lake)
Tab Hunter Confidential: The Making of a Movie Star (Tab Hunter)
Pin-Up Grrrks; Feminism, Sexuality, Popular Culture (Maria Elena Buszek)
American Prince: A memoir (Tony Curtis)
Everything and Nothing: The Dorothy Dandridge Tragedy (Dorothy Dandridge)
The Great American Pin-up (Charles Martignette and Louis K. Meisel)
Gentlemen Prefer Blondes (Anita Loos)
Ayesha (H. Rider Haggard)
Magazines
Blue Book
Short Stories
Ellery Queen's Mystery Magazine
Argosy
Pall Mall Magazine
The Story-Teller
Adventure
Associated Brands
Playboy
Pinup Girl Clothing
Atomic Boutique
Bettie Page Store
Gallery
Gibson Girl: The Origins of the Pin-Up