Raise a Floppa - The Loop
Play Sound
DISCLAIMER: SOME OF THE ACTIVITES NAMED IN THE ACTIVITY SECTION SHOULD BE PRACTICED AT YOUR OWN RISK.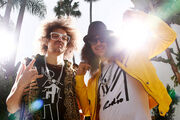 Party Animal is an aesthetic revolved around parties and having fun. This aesthetic is closely related to partycore, but focuses mainly on teenage and collegiate party elements (as well as raves or house parties) such as drinking, behaving recklessly and enjoying youth to the max.
Activities
Party Animals love to spice up their parties with different games. Some may be normal, like two truths and a lie. Others may be outrageous, such as spin the bottle or beer pong. Some more examples of activities are:
Drinking/Smoking(AT YOUR OWN RISK)
Making out
Dancing
Photography
Drinking Contests (AT YOUR OWN RISK)
High Diving (AT YOUR OWN RISK)
Filming (usually drunk people/ mischief) (OBTAIN CONSENT)
Fashion
Most of the fashion in this aesthetic is similar to 'regular' high schooler attire in the United States, but with some party and new-jock spice. The main goal of a Party Animals' fashion sense is to be comfy as one may be doing a lot of activity [sweat, spills, getting dirty in general], with usually bright colors [but not always] and doesn't focus on a fancy aspect, like most gathering events. Some of the most popular clothing choices are:
Large Sweatshirts/ Hoodies
Pit Vipers
Shorts
Nothing
Sweatshirt w/ school logo or school sports team
Skirts
Costumes
Muscle Shirts
Worn Sneakers (usually white)
Baggy Sweatpants/ Sweatsuit
for more on fashion, the Cuddle Party page is great too!
Music
LMFAO - Sexy and I know it
LMFAO - Party Rock Anthem
Sheck Wes - Mo Bamba
Film
Project X
Workaholics
American Pie series
Knocked Up
Gallery