GTA: The Criminal Enterprises - The Loop
Play Sound

Pale Grunge or Pale Aesthetic is an aesthetic based on simple photos with a color palette based on white, grey, black, green, and blue. Appeared on Tumblr between 2013 and 2015. Some photos are intended to be sad looking, of someone suffering for love or with a '90s vibe, for example.
Despite calling themselves grunge, their aesthetic was fairly popular in the mainstream and connected to the rise of the Alternative, emo, pop, and indie music and fashion trends of the time, such as galaxy print, black and white grids, and fandom merchandise. Because of their close-knit community on Tumblr, they developed a "not-like-other-girls" attitude, especially in contrast with the "hipsters" (which is more accurately described as an early version of VSCO). The type of media they consumed was also incredibly specific, with fangirl culture and this aesthetic often overlapping. This style later declined, yet has gained short-term popularity in 2020 due to a desire to escape to the past.[1]
Visual
This aesthetic can be described as very fresh or a clean variation of the grunge style. Enthusiasts of this aesthetic focus on taking pictures that contain:
Band posters, cover art, and merchandise
Black and white edits of movies and TV shows
Cigarettes
Concrete edifications
Faceless photos
Glass
Greek statues
Guitars
Japanese kanji
Lyrics and quotes in simple fonts over solid or gridded backgrounds
Outfits
Old TVs
Plants
Polaroids
Silver objects
Simple drawings
Storefronts
Succulents and cacti
Technology such as iPhones and headphones
Vaporwave gifs done in black and white
White rooms
Water bottles
Writing and quotes
Fashion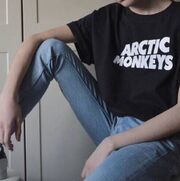 The style associated with 2014-era Tumblr has a very defined color palette in that it is typically monochrome or pastel, depending on personal preference. Japanese fashion, early 2000s emo, and more authentic grunge influenced the style, which has outfits that were incredibly specific, almost formulaic. Unlike grunge or the DIY ethos of other alternative fashions, these pieces were typically bought brand new at mall stores such as American Apparel and Hot Topic. Despite the term "Tumblr girl" being the most popular term, men can wear the aesthetic too. Pale aesthetic outfits are now often associated with bisexual people and LGBT fashion. Typical fashion pieces include:
Band and fandom printed t-shirts
T-shirts printed with patterns popular at that time, such as galaxy, horizontal stripes, and black and white grids
Plain black and white t-shirts
Flannels
Denim jackets
Cuffed jeans
Ripped jeans
Black skinny jeans (typically associated with the Hot Topic emo fans)
Pleated tennis skirts
Fishnet tights
Knee socks
Converse sneakers
Creepers
Combat boots
Vans shoes, often the black and white checks
Black plastic chokers and bracelets
Beanies
Flower crowns
Websites & Stores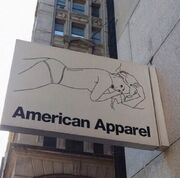 Stores that are popular among members of the Pale aesthetic community include:
Adidas
All Star
American Apparel
BLK Water
Boxed Water
Crosley Cruiser
Evian Water
Fiji Water
Nike
Voss
Zara
Hair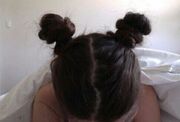 Coloured or faded hair is great for this aesthetic, but natural hair also fits very well. Also hairstyles and haircuts like:
Bangs
Space Buns
Messy Bun
Long Bob
Long hair
Short hair
Pigtails
Microbangs
Decoration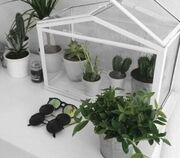 To decorate your living space in the Pale aesthetic way, here are some quick tips to achieve this aesthetic quickly.
Plants are essential when it comes to decorating in this aesthetic. Plants such as succulents, ferns, and cacti should not be missed and rooms with white walls and simple decoration.
White sheets and pillowcases or with grid, stripes or plaid prints
Polaroids, pictures of album covers, drawings or photos of famous people stuck on the wall.
Write quotes on the walls
Vinyl records on the wall
Vinyl record player
Marble
The intention of a Pale Aesthetic room is not to look minimal, but simple.
Music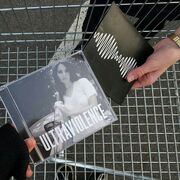 A lot of Pale music tends to fall into the Indie category.
Artists
Lana Del Rey
Arctic Monkeys
The XX
The Neighbourhood
The 1975
Hozier
Charli XCX
MARINA
Lorde
Troye Sivan
Halsey
Melanie Martinez
Twenty One Pilots
The Smiths
Mac DeMarco
MARINA
Lykke Li
Lorde
Azealia
Sky Ferreira
Allie X
Cage The Elephant
Albums
Pure Heroine by Lorde
The 1975 by The 1975
Ultraviolence by Lana Del Rey
Born to Die by Lana Del Rey
Blue Neighbourhood by Troye Sivan
Cry Baby by Melanie Martinez
Suck It and See by Arctic Monkeys
Wasteland, Baby! by Hozier
Songs
"She's Thunderstorms" by Arctic Monkeys
"Mad Hatter" by Melanie Martinez
"for him." by Troye Sivan
"Carmen" by Lana Del Rey
"Lonely Hearts Club" by MARINA
"Bitch" by Allie X
"Cigarette Daydreams" by Cage The Elephant
Resources
External links to help get a better understanding of this aesthetic.
Pinterest Boards
Playlists
Gallery
References