Pale or Pale Aesthetic is an aesthetic based on simple photos with a color pallete based on white, grey, black, green, and blue. Appeared on Tumblr between 2014 and 2015. Some photos are intended to be sad looking, of someone suffering for love or with a '90s vibe, for example.
Visual
This aesthetic can be described as very fresh or a clean variation of the grunge style. Enthusiasts of this aesthetic focus on taking pictures that contain:
Concrete edifications
Plants
White rooms
Water bottles
Outfits
Old TVs
Greek statues
Silver objects
Simple drawings
Writing and quotes
Japanese quotes
Album covers
Faceless photos
Glass
Polaroids
Grids
Stores
Guitars
Cds, vinyls, records
Fashion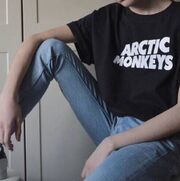 It usually contains clothing from famous brands, but the real intention is to have a basic look. To do a pale aesthetic look you have to use:
Jeans
Grid print
Basic white or black shirts
Shirts with quotes (can also be in Japanese)
Band shirts
Fishnets
Knee socks
All Star
Creeper
Boots
Vans
Belts
Nike Air
Chains
Striped shirts
Pleated skirts
Sweatshirts
Ripped pants
Ankle boots
Holographic items
Websites & Stores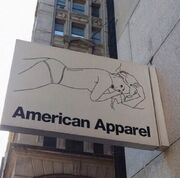 Stores that are popular among members of the Pale aesthetic community include:
Adidas
All Star
American Apparel
BLK Water
Boxed Water
Crosley Cruiser
Evian Water
Fiji Water
Nike
Voss
Zara
Hair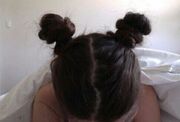 Coloured or faded hair is great for this aesthetic, but natural hair also fits very well. Also hairstyles and haircuts like:
Bangs
Space Buns
Messy Bun
Long Bob
Long hair
Short hair
Pigtails
Microbangs
Decoration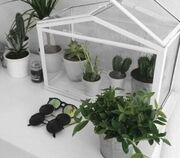 To decorate your living space in the Pale aesthetic way, here are some quick tips to achieve this aesthetic quickly.
Plants are essential when it comes to decorating in this aesthetic. Plants such as succulents, ferns, and cacti should not be missed and rooms with white walls and simple decoration.
White sheets and pillowcases or with grid, stripes or plaid prints
Polaroids, pictures of album covers, drawings or photos of famous people stuck on the wall.
Write quotes on the walls
Vinyl records on the wall
Vinyl record player
Marble
The intention of a Pale Aesthetic room is not to look minimal, but simple.
Music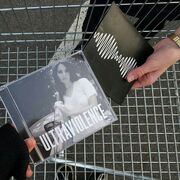 A lot of Pale music tends to fall more into the Indie category.
Artists
Lana Del Rey
Arctic Monkeys
The XX
The Neighbourhood
The 1975
Hozier
Charli XCX
Marina And The Diamonds aka MARINA
Lorde
Troye Sivan
Halsey
Melanie Martinez
Twenty One Pilots
The Smiths
Mac DeMarco
Gallery
Community content is available under
CC-BY-SA
unless otherwise noted.