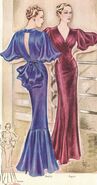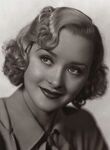 Old Hollywood is an aesthetic surrounding the movies, music, and fashion of the 1930's- 1950's. It's meant to draw you into a time before and forget about the current things happening.
Fashion
Clothing
Fashion from the old Hollywood days include:
Midi length dresses, large collars, puff sleeves, belted waists
A long evening gown, backless, deep cut, sleeveless
High waisted sailor pants
Slouch hats, tilt hats, knit berets
Pillbox hats
Fur boas and jackets
Oxford Shoes
T-strap and Mary Jane heels
Kitten heels
Pearl earrings
Small handbags
Opera gloves
Makeup was minimal but bold, dark lips and thin eyebrows were popular.
You can get pieces like these from vintage/thrift stores, there are also lots of sewing patterns on Etsy.
Hair
Lots of waves
Shorter hair is ideal, but you can still have lots of hair-do's with longer hair.
Classic finger curls are an amazing look.
You can find lots of inspiration from actors at the time.
Film
Here are some of the classic movies from this time period.
Gone with the Wind (1939)
The Adventures of Robin Hood (1938)
There are also many later movies, set in or pay homage to the era:
Sunset Boulevard (1951)
Cats Don't Dance (1997)
Silent Movie (1976)
Singin' In The Rain (1952)
The Artist (2011)
Myra Breckinridge (1970)
TV Shows
-Hollywood, Ryan Murphy (2020) (about a group of aspiring actors and filmmakers during the Hollywood Golden Age in the post-World War II era)
Music
Under Construction
Gallery
Community content is available under
CC-BY-SA
unless otherwise noted.