Mori Kei (森系), also known originally as Mori Girl (森ガール) is a Japanese fashion that centers around an appearance inspired by living in the woods.
History
In 2006, a community called "Mori Girl" was created on the Japanese social network mixi. The name was chosen by its manager, Choco, after a friend commented one of her outfits stating "You look like you are in the forest."
The "Mori Girl" mixi community reached 35,000 people in 2009, and it caused a big boom that led to the creation of multiple mori kei magazines and brands such as Mori Girl Lesson magazines, Choco's Mori Girl Book, and the popular mori brand Wonder Rocket. The style also saw considerable popularity overseas, where the name Mori Kei began to be used, leading to the creation of various communities on social media and livejournal. However, in Japan the style began to decline in the early 2010s, and magazines and brands declined with the end of its popularity.
As of 2019, the online mixi group about the origin of mori kei has been deleted, and the brand that has been worn at the highest of its popularity, "Wonder Rocket," also closed its Harajuku store in 2017.
The heyday of the fashion might have passed, but since there still is certain number of enthusiasts, the genre of mori kei itself has not disappeared. There are still brands catering to mori kei even though the design has changed to suit the present, as well as a still existing international online community.
Fashion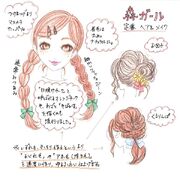 This style has undergone many changes and trends since the height of its popularity, but the basic appearance still remains the same. It combines clothing that appears natural, girly, layered, and loose. In general, the main staple of mori fashion are its many loose layers that hide the the body shape, and the term "yurufuwa" (ゆるふわ) is often used to describe it's fluffy appearance.
Clothes with embroidery, various kinds of lace, and light materials are preferred and for layering, cardigans, vests, and knit scarves and shawls are often used in the style. Besides its most known off-white color schemes, earth tones and other natural tones, such as navy blue, khaki, beige and brown, are used. Floral colors such as light pinks and blues are also sometimes used. Popular accessories include lace-up leather boots, tights, and baskets.
The hair and make-up matches the outfits in that they appear natural. The popular eye shadow options are beige, gold and pink, in minimal styles. The blush is often highly placed and round. The eyebrows are thick and natural.
Websites & Stores
Pinterest
Activities
Baking and cooking
Camping
Collecting acorns & pine cones
Crafting
Cross-stitching
Drawing
Drying leaves & flowers
Embroidering
Felting
Gardening
Geocaching
Going for a walk
Going thrift shopping
Having hot drinks, such as apple cider or hot chocolate
Horseback riding
Hiking
Journaling
Knitting
Making dried fruit
Painting
Picnics
Photography
Reading
Reading fairy tales
Scrapbooking
Sculpting
Sewing
Sketching
Stargaze
Visiting a library
Writing letters
Media
Movies
Anything by Studio Ghibli
The Secrete of NIMH
Children who Chase Lost Voices
Pollyanna
The Secret Garden
Books
Inkheart
Grimms Fairytales
Howl's Moving Castle
The Secret Garden
Tales from Hans Christian Andersen
Anne of Green Gables
The Borrowers
Peter Pan
Redwall (Series)
Authors
Beatrix Potter
Dianna Wynne Jones
Anime and Manga
Is the Order a Rabbit
Mary and the Witch's Flower
The Ancient Magus' Bride
Anohana
Fruit's Basket
Music
Playlists
Subgenres
Dark Mori Kei
Dark Mori Kei takes the standard Mori Kei aesthetic, but gives it a dark, witchy/gothic twist, incorporating darker clothing into the look compared to the usually more light-hearted Mori Kei. The style was created by the international community and later evolved into Strega. However, the style has gained a considerable popularity amongst the international community and is widely known.
"Sub" Styles
A number of similar styles with their own histories are often considered somewhat sub-styles to mori fashion. These include Yama Kei, a fashion centered around hiking and mountains instead of the forest, and mori boy, a term used to describe a masculine version of mori kei fashion.
Gallery