Raise a Floppa - The Loop
Play Sound

Mori Kei (森系), also known originally as Mori Girl (森ガール) is a Japanese fashion that centers around an appearance inspired by living in the woods.
History
In 2006, a community called "Mori Girl" was created on the Japanese social network Mixi. The name was chosen by its manager, Choco, after a friend commented on one of her outfits stating "You look like you are in the forest."
The "Mori Girl" Mixi community reached 35,000 people in 2009, and it caused a big boom that led to the creation of multiple mori kei magazines and brands such as Mori Girl Lesson magazines, Choco's Mori Girl Book, and the popular mori brand Wonder Rocket. The style also saw considerable popularity overseas, where the name Mori Kei began to be used, leading to the creation of various communities on social media and livejournal. However, in Japan, the style began to decline in the early 2010s, and magazines and brands declined with the end of its popularity.
As of 2019, the online Mixi group about the origin of mori kei has been deleted, and the brand that has been worn at the highest of its popularity, "Wonder Rocket," also closed its Harajuku store in 2017.
The heyday of the fashion might have passed, but since there still is a certain number of enthusiasts, the genre of mori kei itself has not disappeared. There are still brands catering to mori kei even though the design has changed to suit the present, as well as a still existing international online community.
Fashion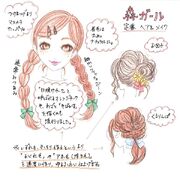 This style has undergone many changes and trends since the height of its popularity, but the basic appearance still remains the same. It combines clothing that appears natural, girly, layered, and loose. In general, the main staple of mori fashion is its many loose layers that hide the body shape, and the term "yurufuwa" (ゆるふわ) is often used to describe its fluffy appearance.
Clothes with embroidery, various kinds of lace, and light materials are preferred and for layering, cardigans, vests, and knit scarves and shawls are often used in the style. Besides its most known off-white color schemes, earth tones and other natural tones, such as navy blue, khaki, beige, and brown are used. Floral colors such as light pinks and blues are also sometimes used. Popular accessories include lace-up leather boots, tights, and baskets.
The hair and makeup match the outfits in their natural appearance. The popular eye shadow options are beige, gold and pink, in minimal styles. The blush is often highly placed and round. The eyebrows are thick and natural.
Activities
Baking and cooking
Camping
Collecting acorns and pine cones
Crafting
Cross-stitching
Drawing
Drying leaves and flowers
Embroidering
Felting
Gardening
Geocaching
Going for a walk
Going thrift shopping
Having hot drinks, such as apple cider or hot chocolate
Horseback riding
Hiking
Journaling
Knitting
Making dried fruit
Painting
Picnics
Photography
Reading fairy tales
Scrapbooking
Sculpting
Sewing
Stargazing
Visiting a library
Writing letters
Media
Movies
Anything by Studio Ghibli

My Neighbour Totoro
Howl's Moving Castle
Pompoko
Princess Kaguya
The Secret World of Arietty
The Secret of NIMH
Children who Chase Lost Voices
Pollyanna
The Secret Garden
Matilda
Heavenly Forest
TV Series
Sweet Tooth
Anne with an 'E'
The World of Peter Rabbit and Friends
Tales from Moomin Valley (1990 TV series)
Sylvanian Families Mini Episodes
Books
Inkheart
Grimm's Fairytales
Howl's Moving Castle
The Secret Garden
Tales by Hans Christian Andersen
Anne of Green Gables
The Borrowers
Peter Pan
Redwall (Series)
Watership Down
Authors
Beatrix Potter
Dianna Wynne Jones
Anime and Manga
Is the Order a Rabbit
Mary and the Witch's Flower
The Ancient Magus' Bride
Anohana
Fruit's Basket
Honey and Clover
Snow White With the Red Hair
Mushi-Shi
Music
There is no specific music in the modern era (although some Japanese bands briefly identified themselves as Mori Kei during its heyday). Regardless, music genres like folk, baroque pop, and dream pop go over well.
Chocopurin
Ichiko Aoba
KOKIA
Popoyans
Searly
Yeye
Youmou and Ohana
Vashti Bunyan
Akiko Yano (particularly the album Brooch)
Chinatsu Kuzuu
Shelleyan Orphan
Virginia Astley
Fleur
Joan Baez
Donavan
Simon and Garfunkel
Subgenres
Dark Mori Kei
Dark Mori Kei takes the standard Mori Kei aesthetic, but gives it a gothic twist, incorporating darker clothing into the look compared to the usually more light-hearted Mori Kei. The style was created by the international community and part of it later separated off into Strega/Witchcore.
Today, Dark Mori Kei itself is considered seperate from Strega, as it still follows the rules of the original Mori Kei in terms of layering and shape. Many people in this aesthetic consider Helena Bonham Carter to be a style inspiration. They are also more open to Goth music and the Goth community (particularly the Woodland Goth aesthetic and the work of Siouxsie and the Banshees and All About Eve).
This substyle has continued to grow in considerable popularity amongst the international community and is widely known.
Yama Kei
Yama Kei was introduced by Japanese women with a passion for the outdoors. It features practical outdoor clothing and equipment in bright colors and vivid patterns.
Hama Kei
Hama Kei is a short-lived version of Mori Kei adapted to life in the seashore and the beach. It features fewer and lighter layers, and an emphasis in blue, aqua, beige and white tones, as well as the use of denim and sailor-like stripes and anchors.
Resources
External links to help get a better understanding of this aesthetic.
Communities
Blogs
Vendors
Playlists
Pinterest Boards
Gallery