Mori Kei (森系) is a japanese vintage fashion that centers around an appearance that is inspired by living in the woods.
History
In 2006, a community called "Mori Girl" was created on the japanese social network mixi. The name was chosen by it's manager, Choco, after a friend commented one of her outfits with "You look like you are in the forest.".
The "Mori Girl" community reached 35,000 people in 2009, and it caused a big boom that lead to creation of multiple mori kei magazines and brands. However, magazines and brands decline with the end of its popularity.
As of 2019, the online article about the origin of mori kei has been deleted, and the brand that has been worn at the highest of its popularity, "Wonder Rocket," also closed its Harajuku store in 2017.
The heyday of the fashion might have passed, but since there still is certain number of enthusiasts, the genre of mori kei itself has not disappeared. There are still brands cathering to mori kei even though the design has changed to suit the present.
Fashion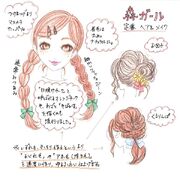 This style has undergone many changes since the height of it's popularity, but the basic appearance still remains the same. It combines clothing that appears natural, girly, folklore, and bohemian. There are many loose layers that hide the the body shape, and the term "yurufuwa" (ゆるふわ) is often used to describe it's fluffy appearance. Clothes with embroidery, rustic crochet, and light materials are preferred and for layering, cardigans, vests, and collars are often used. Besides off-white, earth tones such as navy blue, khaki, beige and brown are used. The hair and make-up matches the outfits in that they appear natural. The popular eye shadow options are beige, gold and pink. The blush is often highly placed and round. The eyebrows are thick and natural.
Mori Kei Vendors
Subgenres
Dark Mori Kei
Dark Mori Kei takes the standard Mori Kei aesthetic, but gives it a dark, witchy/gothic twist, incorporating darker clothing into the look compared to the usually more light-hearted Mori Kei.
Gallery
Community content is available under
CC-BY-SA
unless otherwise noted.