Mori Kei (meaning "forest style") is a Japanese street fashion that sprung up in the early 2000's and since has become very popular in Europe and America.
Though it is often compared to Cottagecore, Mori Kei is much more elegant and doll-like. According to Bellatory.com, Mori Kei fashion is described as:
"Most Mori Kei outfits feature lacy dresses or tops in soft hues like cream, beige, light greens or pastel colors. These are usually layered with longer, tiered skirts in gentle floral prints, browns, plaids, etc. Oversized cardigans, vests, or crocheted shawls are added for visual interest. Long stockings or lacy socks are often paired with boots or mules in earth tones."
Makeup and hair are usually kept to a minimum, but it's not uncommon to see someone in Mori Kei decked out in a wig and false eyelashes either, but only if it directly benefits the aesthetic.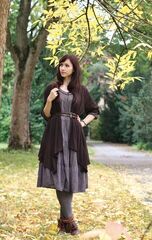 Dark Mori Kei is a fashion genre that uses soft, loosely fitting layers of garments such as floaty dresses and cardigans. It places an emphasis on natural fabrics and hand-made or vintage accessories with a nature theme. The color scheme tends to be light and neutral, but patterns such as gingham and floral may also be used. In terms of hairstyles, bangs and braids are very popular. It is similar to Dolly Kei in that the aim is to create a doll-like appearance, but in a more casual, earthy manner.
Community content is available under
CC-BY-SA
unless otherwise noted.