Kuromicore is an aesthetic based on Kuromi from a show called "Onegai My Melody". Kuromi is a mascot designed by the company Sanrio Co. Ltd (株式会社サンリオ). Sanrio Co. Ltd was made by Shintaro Tsuji. The shop sells Kawaii Japanese merchandise. This is heavily tied to Sanriocore.
Visuals
Kuromi (obligatory)
Dark pink or purple filters
Check patterns
Skull bows
Devil tails
Chains
Fashion
Pointy pink, purple, or black acrylic nails
Belt with a chain
Large hoodies/shirts with Kuromi motifs
Black or pink skirts/shorts/pants
Band-aids with Kuromi motifs
Barrettes, hair ribbons
Kuromi and Sanrio merch (eg. backpacks, toys, and keyrings)
Mary janes, chunky boots, chunky sneakers, or oxfords
Fishnets
Thigh-high socks
Makeup
Blush
Eyeliner
Pink or black eyeshadow
Fake eyelashes
Pink lipstick, blended in lipstick, or the top of the lip black
Fake bl00d
Resources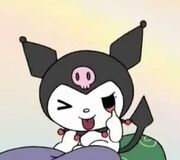 External links to help get a better understanding of this aesthetic.
Playlists
Pinterest Boards
Gallery