Kawaii (かわいい) is a Japanese term and aesthetic referring to the unique concept affirming childlike and pretty things that make your heart flutter. However, different from the English word "cute", it is peculiar in that it's so diversified that it spawned many subgenres which often are far removed from the original concept. For example, Gurokawa refers to "creepy cute" things and Erokawa to everything "erotic but cute" that appeals to the sexual desire.
The concept of kawaii is often misunderstood in foreign countries and often wrongly applied to anything "chibi". [1]
History
In ancient Japanese, the words "kawayushi" (かはゆし) and "kaohayushi" (かほはゆし) were used. Different to the nowadays "kawaii", they were associated with a negative image, referring to something "so pitiable one can't stand it". Later on, those words were replaced by "kawaii" and started to take on a positive strength, instead of being seen as a weakness. [2] However, before the term became used the way it is now, it was mainly used by men to objectify women, and during the 60s, it was very common to be catcalled "Kawaiko-chan" (かわい子ちゃん), which is similar to the English "cutie". Later on, the meaning of "kawaii" changed once again when women reclaimed the term by starting to use it to describe everything that is just like them: cute. [3]
In the 70s, the number of people who use the term "kawaii" exploded, resulting in the birth of kawaii culture. The Japanese word "kawaii", which previously was just an adjective, has come to have symbolic value. During that time, the company Sanrio gave birth to Hello Kitty, which soon would become one of the most iconic "kawaii" characters in history. Beyond that, "non-standard girlish script" (変体少女文字) was introduced as the typeface in 1974, and this overly cute writing style became so popular among high school girls, teachers started to have issues reading their homework. Another change of that time was among girl's manga magazines. Previously, they mostly came with posters and stickers of popular boy groups, similar to western girl's magazines, but in 1975 this changed to "kawaii" stationary goods with characters from the mangas printed on them.[4]
In 1982, the magazine "Olive" (オリーブ) was launched by Heibon Publishing (now Magazine House) and gave birth to the first wave of "kawaii revolution" (かわいい革命) as well as "otome" culture. The fans of the magazine dolled themself up in ribbons and frills, lace, floral prints, and other girly styles. Popular with those girls that idolized its style were brands that gave off a fairytale-like feel, such as Pink House by designer Isao Kaneko. The designer did not hesitate spreading the new meaning of "kawaii" as "by women for women" which is precisely why the brand has been considered a leader of spreading kawaii culture ever since. Its followers would collect things that appealed to their sense of cuteness and mix them, expressing their individuality, and this is would evolve into what is referred to as Harajuku or kawaii fashion nowadays. [5]
Visuals
This section is under construction
Kawaii visuals are in a range of colors, but are most commonly associated with pastels, with white as a neutral and pink as the most popular color. However, this is not necessary in all of this aesthetic's visuals, as different examples show that this is not the case; for example, neons with Decora and black with some Sanrio characters. Lighting is always bright, with few to no shadows. Photo-editing is highly utilized in kawaii, as people often add additional stickers and sparkles, enlarge their eyes, and smoothen the photo to look more maximalist and hyper-cute.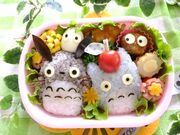 Sweets are a common visual motif in kawaii. These can include cakes, macaroons, flan, cotton candy, iced cookies, ice creams, parfaits, boba and other beverages. These sweets are done in the Japanese style with specific references to the culture, such as having the food shaped like certain characters, elaborate whipped cream decorations, purin pudding, etc., as opposed to Western sweets. Decorations are mandatory, with multiple textures and colors present via sprinkles, drawn-on icing, etc. Strawberries are an incredibly common motif due to repeated use in early artworks and merchandise.[6] Additionally, savory foods may appear in the form of bento boxes with food shaped as different characters. Nature-inspired motifs, such as skies, flowers, and small critters, are also very commonplace in form of minimalistic drawn stars, clouds, rainbows, butterflies, and cherry blossoms.
Anthropomorphic illustrated characters, are the most unique and recognizable feature of the aesthetic. The most popular characters originate from the Japanese company Sanrio, which created Hello Kitty, Cinnamon Roll, My Melody, and more that can be viewed here. Another popular company would be San-x, with characters like Rilakkuma, Sumikko Gurashi, Sentimental Circus, Mamegoma and more, which can be viewed here. Other examples include care bears , Moomins, Pusheen the cat, various Animal Crossing characters, and different Pokémon such as Pikachu and Squirtle. There are multiple commonalities between these kawaii characters; many of them are simple in design, with features that are simultaneously distinct enough to be different from other competing characters, but also following the guidelines in character design that make characters look friendly and child-like. These include round bases for bodies, large eyes and heads with small arms, and a lack of intense shadow and angularity. These characters' immense popularity allows them to easily be marketed as mechandise, with a variety of stationery, home goods, clothing, and even large vehicles such as airplanes.
Human characters could also be classified as kawaii if they are innocent and childlike. These are called Moe, and tend to come from anime and manga, as the trope is from Japanese pop culture. Like the critters, these characters have large eyes, round shapes, and unique colors and outfit designs. Their intense and open displays of emotion are related to people's affection for them, and often appear as either helplessness and/or upbeat cheerfulness.[7] Gifs of these moe characters often appear in kawaii blogs.
Media
TV Shows and movies
Sugar Bunnies
Jewelpet
Onegai My Melody
Tottoko Hamtaro
Studio Ghibli films
Mewkledreamy
Hello Kitty and Friends
Kitty's Paradise
Dinosaur Biyori
Picchipichi Shizuku-chan
Mofu☆Mofu
Lii Icecrin
Bananya
Chi's Sweet Home
Pururun! Shizuku-chan
Panda no Taputapu
Ganbare! Lulu Lolo
Happy Happy Clover
Ice Kuritarou
Lalala Lala-chan
Lalalacoco
Micchiri Wanko! Animation
Tamagotchi!
Pretty Cure
Pretty Rythm
PriPara
Gakuen Babysitters
Sanrio Boys
Nyanko Days
Is the Order a Rabbit?
Kamisama Minarai: Himitsu no Cocotama
Chibi Devi!
Pui Pui Molcar
Cookin' Idol Ai! Mai! Main!
Xiao Hua Xian
Sylvanian Families: Mini Story
Shokupan Mimi
Ice Kuritarou
Usaru-san
Kapibara-san
Little Charo
Suzy's Zoo Daisuki! Witzy
Mameshiba
Yukai na Animal Bus
Koshikko
Unikitty
BT21 Shorts
Usagi no Mofy
Yousei Chiitan
Nyanpire The Animation
Rilu Rilu Fairilu
Rirakkuma to Kaoru-san
Funassyi no Funafunafuna Biyori
Kirakira Happy★Hirake! Cocotama
Wagamama Fairy Mirmo de Pon!
PriPri Chii-chan!!
Kiratto Pri☆Chan
Bee and Puppycat
Aggretsuko
Doraemon
Beelzebub-jou no Okinimesu mama.
Urahara
Yume no Hoshi no Button Nose
Hello Kitty: Stump Village
Hello Kitty Super Cute Adventures (on Youtube)
Poyopoyo
Kupu~!! Mamegoma!
Tanuki to Kitsune
Kiniromozaic
Happy Kappy
Luminary Tears
Midori no Kuni no Otomodachi: Koeda-chan
Flower Witch Mary Bell
Sumikko Gurashi Movie: Tobidasu Ehon to Himitsu no Ko
Maple Town
Doubutsu no Mori
Shirotan: Shirotan ga Ippai!
Nanami-chan
Mochi Mochi Panda
Kyoufu! Zombie Neko
Pita Ten
Wagamama☆Fairy Mirumo de Pon!
Micchiri Neko
Unico
Ojamajo Doremi
Afro-Ken
Kingyo Chuuihou!
Fushigi Mahou Fun Fun Pharmacy
Cookin' Idol Ai! Mai! Main!
Happy Happy Clover
Flowering Heart
Wan Wan Celepoo Soreyuke! Tetsunoshin
Kasumin
Hiyoko Gumo
Pokonyan!
Hamster Club
Strawberry Shortcake
Popples
Gaspard and Lisa
Princess Pring
Music
Genres
J-Pop
Future Bass
Kawaii Metal
Idol Groups
Music Box
Vocaloid
some K-Pop
Artists
Morning Musume
Babymetal
Kyary Pamyu Pamyu
Momoiro Clover Z
Moon Kana
Wasuta
Kamiyado
Ladybaby
Dempagumi Inc
Vocaloid
Snail's house
Chevy
Tomggg
Dark Cat
Yunomi
Perfume
CY8ER
Kirara Magic
Couple N
Cho Tokimeki♡Sendenbu
ClariS
NiziU
Yui Ogura
I☆Ris
Nanahira
Yuayua
Orange Caramel
Apink (early works)
Gfriend (early works)
Crayon Pop
Meltia
Merry Merli
Kyururin te Shitemite
Subgenres
Yumekawaii - dreamy cute
Yamikawaii - dark and sickly cute
Gurokawaii - creepy cute
Erokawaii - erotic cute
Busukawaii - ugly cute
Dokukawaii - toxic/radioactive cute
Neokawaii - trendy cute
Kakkokawaii - cool and boyish cute
Fuwakawaii - fluffy cute
Resources
External links to help get a better understanding of this aesthetic.
Vendors
Playlists
Youtube Channels
Tiktok Accounts
Pinterest Boards
Gallery
References