World of Warcraft: Dragonflight - The Loop
Play Sound
High School Dream is an aesthetic that glorifies high school culture (usually American high schools) and every aspect of it, such as:
Stereotypes such as cheerleaders, jocks, nerds, goths, stoners, etc
Lockers
High School Sweethearts
School bathrooms
Yellow school bus
Football
High school parties
Prom
Baseball/soccer field
Teen angst
Cliques
Bullying
Best friends
Clubs
It also glorifies youth and teen spirit (teenagers' life and culture, teen angst) and portrays it as a dreamy, nostalgic version of teenage life during high school. The aesthetic is mainly influenced by teenage high school movies.
Visual
A lot of the popular visuals associated with High School Dream include:
Football games
Lockers
Pictures in Lockers
Cliques
Graduation
School Buses
Parties
Dances
Hallways
Posters
Notes
Libraries
Auditoriums
Fashion
The fashion includes daily, trendy, ordinary teenage fashion, usually worn in school. Since it is based on high school in general, fashion doesn't matter as much as it does in other aesthetics. Stereotypically, High School Dream fashion includes:
Letterman jackets
Converse/Vans shoes
Checkered shirts
Check print skirts
Ringer t-shirts
Polo shirts
Gym Uniforms
Cheerleader uniforms
Blue jeans
Classic band tees
Media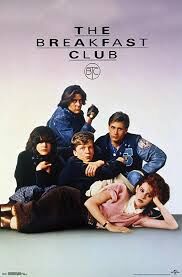 The Breakfast Club
Ferris Bueller's Day Off
Pretty In Pink
Heathers
Clueless
Freaks and Geeks
Saved By The Bell
Degrassi
Riverdale
13 Reasons Why
Mean Girls
Glee
Daria
My So-Called Life
High School Musical
Grease
The Kissing Booth (film series)
Almost any other show/film about teenagers.
Music
Miss Americana and The Heartbreak Prince-Taylor Swift
Spotify Playlists
Images