Fire Emblem Warriors: Three Hopes - The Loop
Play Sound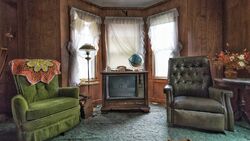 Grandparentcore is an aesthetic related to the common aesthetic depiction of grandparents as a whole. It is a comfortable, whimsical (but not necessarily chaotic) aesthetic centered around focusing on things we enjoy most. Though it may appear simple or even naive at first glance, grandparentcore implies a certain level of expert knowledge in various topics or activities. Most of the things that are involved with grandparentcore are old, vintage, or even antique as it is implied that they have been used or were invented a long time ago. This aesthetic is split into two different aesthetics: Grandmacore and Grandpacore. Though these two groups fall very neatly into binary gender categories, they tend to overlap or borrow from each other. They aren't Female-Grandparentcore and Male-grandparentcore; they are two groups under one overarching umbrella.
Grandmacore

Grandmacore refers to an aesthetic that is based around cottage and stereotypical grandma related things ie. gardening, soft knitted fabric, crocheting, farmland animals, fresh baked bread, etc.
Visuals
Knitting and balls of yarn in baskets
Lots of baked goods and sweets
Probably a rocking or armchair in the corner by a fireplace
Doilies
Old novelty teapots, plates, or vases
Fake floral arrangements
Brightly colored old furniture (sometimes covered in plastic)
Kitschy trinkets or novelty items centering on a theme unique to the individual (cats, lighthouses, flowers, etc.)
House organized in a very particular way
Fashion
Cozy jumpers (hand-knitted)
Old dresses (hand-made)
Knitted cardigans (hand-knitted)
Aprons
Long skirts
Slippers
White hair pulled back neatly
Older jewelry such as brooches, matching sets, old rings
Faded bathrobes
Long cotton or flannel nightgowns
Activities
Knitting
Crocheting
Quilting
Sewing
Baking
Doing puzzles (crossword, picture, wordsearch, etc.)
Cooking
Gift-giving for loved ones
Watching daytime TV (Game Shows, Soap Operas, Talk Shows)
Listening to the radio or records (or even Podcasts, National Public Radio or similar, etc.)
Gardening
Floral arranging
Walking early in the morning with friends
Going to bed early
Music
Gallery
Grandpacore

Grandpacore is related socially-accepted and more wholesome associations of stereotypical grandpas. This can be done through media or well-known iconography often associated with grandfathers, normally taken from Twitter and Tumblr.
Visuals
Plaid (shirts, scarves, hats, etc.)
Well-worn chair
Messy garage or workspace
Station Wagons
Golf or football
Vintage knick-knacks
Muted knit blankets
Half done crossword puzzles
Bird Houses
Fashion
Newsboy hats
Suspenders
Bowties
Button up shirts
Sweatshirts with school logos
Half-zip sweaters
Handknit cardigans and sweaters
Sweater vests
Dirty shoes or slippers
Old white socks
Vintage or dirty watch
High waisted pants
Flannels
Brown Leather Shoes
Tweed jacket
Cane
Activities
Woodworking
Auto repair
Watching daytime TV (Game Shows, Soap Operas, Talk Shows)
Listening to the radio or records (or even Podcasts, National Public Radio or similar, etc.)
Having affection for specific animals
Smoking cigars
Tinkering with broken appliances/machines
Meeting old friends at cafes or restaurants
Bickering with significant other
Repetition of specific memories / events as if they've never told them before
Hyperspecific interests / hobbies (model building, panoramas, World War II planes, Rose gardening, jazz music, etc.)
Music
Gallery