World of Warcraft: Dragonflight - The Loop
Play Sound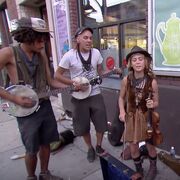 Folk punk is an aesthetic based on a punk subgenre of the same name. The genre and aesthetic take influence both from 1960's hippie music and the 1970's punk movement. The origins of folk punk can be traced into mid to late 1970's into the works of the folk artist Patrick Fitzgerald and his Safety-Pin Suck in my Heart-EP. Although there has been a handful of folk punk acts before the 2000's, in the 2000-2016 the genre, and aesthetic got the most attention. Many folk punks combine parts from punk, Crustpunk, Cottagecore and Hipster fashion to create their own look, that is usually selfmade, down to earth and dirty.
These days most folk punk crosses over with Queercore, because, by design, folk punk is one of the easiest forms of punk to play, making it the easiest way for the youth to express themselves and their criticisms of a society that is still not accepting them fully.
Music
Musically folk punk is punk rock played with acoustic instruments or folk music with a punk energy and atitude. Acoustic guitar, banjo, mandolin, ukulele, trumpet and washboard are among the most common instruments for folk punk music. In fact, many folk punk artists are usually just solo artists who play guitar. Lyrically folk punk is politically heavily left leaning with anarchistic ideals. Folk punk lyrics also tend to be melancholic, with many songs being about alcoholism, drug use, mental health problems and sadness. Other topics are queer issues and identity, homelessness and societal issues.
Bands/Solo Artists

| AJJ | Phoenix, Arizona | 2004 |
| --- | --- | --- |
| Pat the Bunny | Tucson, Arizona | 2010 |
| Johnny Hobo and The Freight Trains | Brattleboro, Vermont | 2000 |
| Wingnut Dishwashers Union | Brattleboro, Vermont | 2007 |
| Mischief Brew | Philadelphia, Pennsylvania | 2001 |
| --- | --- | --- |
| Paul Baribeau | Grand Ledge, Michigan | 2004 |
| Days N Daze | Houston, Texas | 2008 |
| Against Me! | Naples, Florida | 1997 |
Fashion
Folk punk fashion is closely related to the fashion of crusties, with many folk punks wearing battle jackets with patches and pins and looking like typical punks. Another common folk punk fashion choice is farmer clothes that have a dirty, plain and a crusty look for them, that are usually colored very muted colours like light brown or gray. Accompanying this farmer look is usually very minimal makeup or scraggly looking facial hair. Flatcaps, baseball caps and trucker caps are common headwear for folk punks as well, with many choosing to customise them with pins and patches. Beanies are also a common headwear for folk punks. Some folk punk artists also dress in normal everyday clothing.