watch 03:19
Wiki Targeted (Games)
Play Sound

Fauvism is the style of les Fauves, a group of early twentieth-century modern artists whose works emphasized painterly qualities and strong color over the representational or realistic values retained by Impressionism.
While Fauvism as a style began around 1904 and continued beyond 1910, the movement as such lasted only a few years, 1905–1908, and had three exhibitions. The leaders of the movement were André Derain and Henri Matisse.
Notable Artists
In the early 1890s, Henri Matisse and other future fauvists came to the studio of the symbolist painter Gustave Moreau to learn. Here are some of the influential names:
Maurice de Vlaminck
A cyclist, an erotic writer and a violinist in his spare time. He dumped colors onto a canvas as if no tradition had existed before him. His landscapes and portraits defy the logic of reality with resounding fillings, schematic figures and a violence that acted as a counterpoint to the busy study of his friends, who, despite exalting the bright colors they distributed to give them hegemony in their perfect spatial distribution, did not allow nothing random.
André Derain
He followed a path of his own that did not stray too far from the route traced by Picasso, his future rival, who wouldn´t have come Primitivism that led to Cubism without Derain's advice to visit the Museum of Man. The funny thing is that between 'The bathers', very sculptural, by Derain, and 'Las señoritas de Avignon', by Pablo Picasso, there were only a few months and both did not know what the other was doing.
Georges Braque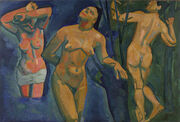 Braque, who travelled to Paris to get the title of broad brush painter, was one of the last to arrive to the movement and one of the first to walk towards abstraction. Without wanting to, its landscapes became more Cezanian and augured a new course that took shape after 1907, when after another Autumn Salon each of the members of Fauvism took their own journey.
Henri Matisse
In his beginnings he practiced Realism, with a traditional style and made copies of masters from the Louvre Museum. He was influenced in his painting by Vincent Van Gogh, Paul Gauguin, Persian ceramics, African art and Moorish fabrics. The most characteristic features of Matisse's style are summarized in his personal appreciation of color in relation to the line, in his way of synthesizing figurative elements, in his contempt for the representation of classical space, and in the undulating arabesque rhythm that prints to many of his most characteristic compositions, related to the symbolist painting of his master Moreau and Art Nouveau. His compositions show an exquisite care, he believed that colors should express feelings and convey emotions. "I do not literally paint that table, but the emotion it produces upon me."
Gallery