This page needs work. Please help us by expanding it. If you aren't sure how to help, click here.

Fairy Academia is a feminine, otherworldly offshoot of Dark Academia, inspired by the aesthetics of Victorian and Edwardian childhood.
Fairy academics enjoy learning and education, as well as trickery and scheming - as in the 1917 Cottingley Fairy hoax, where two young girls used trick photography to con the populace into thinking there were real fairies in their garden.
History
Fairy Academia is an aesthetic that was identified/created by wiki user Fairypage. It is a combination of an identified and a created aesthetic wherein the main inspiration and visuals are based on a series of inter-related events and design movements, but was created in that categories relating to lifestyle and the music associated with the aesthetic are unrelated to the original Victorian/Edwardian time period, such as the grunge elements listed in the music section.
Visuals
Pastel pink
Floral patterns
Tulle
Tea parties
Storybooks
Fairies
Victorian fairytale ephemera
Ballet visuals
Victorian and Renaissance-era paintings
Written
Picnic at Hanging Rock by Joan Lindsay
A Little Princess by Frances Hodgson Burnett
The Secret Garden by Frances Hodgson Burnett
Peter and Wendy by J.M. Barrie
A Midsummer Night's Dream by William Shakespeare
Sleeping Beauty by Charles Perrault
Jonathan Strange & Mr. Norrell by Susanna Clarke
TV media
Heavenly Creatures (1994)
Sleeping Beauty (1959)
Mary Pickford's silent films
Tinker Bell (2008)
Carnival row (2019)
Activities
Reading
Learning
Walks through nature
Picking flowers
Sketching
Painting (watercolour)
Acting out a play/ballet for the woodland creatures
Sewing
Cooking
Dancing (more specifically ballet)
Cons, tricks, swindles, fraud and blackmail; any creative and elaborate offense
Pressing flowers
Tea parties
Sculpting
Fashion
Fairy Academia fashion consists primarily of long and floor-length dresses from a Victorian Era style. A typical outfit could consist of a dress with flats or boots, a flower crown or ribbons in the hair.
Textiles
Tops
Floaty dresses in pastel colours (mostly white)
Party dresses
Mourning clothes
Anything a young girl might wear in Edwardian/Victorian times
Button up shirts/blouses
Bottoms
Accessories
Ribbons
Bows
Flowers (flower crowns, flowers stuck to your dress, etc)
Long hair
Headbands
Corsets/structures bodices (if aging up)
Colors such as cream, sage green, muted pinks and purples, ivory, and brown
Footwear
Ballet flats
Oxford/saddle shoes
Mary Janes
Solid, light coloured tights
Outerwear
Linen aprons
Straw hats
Pea coats
Music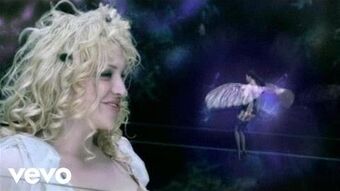 Ethereal vocals with unexpected heavy or industrial instrumentals
Pretty lyrics that sound hard rock-esque - 90s grunge music
Classical, especially ballet, music. Tchaikovsky is a good example.
Genres
Classical
Ballet
New Age
K-Pop
Lo-fi
'90s Grunge
Psychedelia
Albums
Miss Anthropocene by Grimes
Pretty. Odd by Panic! At The Disco
Just Another Diamond Day by Vashti Bunyan
Moenie and Kitchi by Gregory and the Hawk
In Your Dreams by Gregory and the Hawk
Musicians
Gregory and the Hawk
Vashti Bunyan
Playlists
Songs
Soldier, Poet, King by The Oh Hellos
Gallery