Equestrian is an aesthetic that relates to the art of horseback riding and horses in general. It features motifs related to horses like saddles, horseshoes and riding on horseback.
Although equestrians are often ignorantly called "Horse Girls", the aesthetic of being an equestrian is very different. A "Horse Girl" is typically understood to be a young girl in a "horse phase" who acts like a horse, only talks about horses, and is generally crazy. An equestrian, on the other hand, can be a person of any gender who appreciates horses and the art of riding.
Visual
Horse Shows
Jumping
Dressage
Stables
Tack Rooms
Moments of Connection Between Horse and Rider
Popular Motifs Include:
Horse Tack (bridles, saddles)
Bits (often in a pattern)
Stirrups (often in a pattern)
Horses (often close ups or silhouettes)
Riding Crops

Fashion
The fashion consists mostly of traditional and modern English riding attire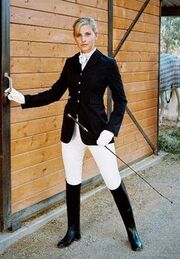 Helmets
Jodhpurs
Tall Boots
Blazers
Short Gloves
Collared Shirts
Rat-Catchers
Polo Shirts
Belts
Note: Shirts are almost always tucked into the jodhpurs
Gallery
Community content is available under
CC-BY-SA
unless otherwise noted.