The Duckcore aesthetic revolves around the theme of ducks, ducklings, warm colors, ponds, and summer.
Visuals
Visuals for Duckcore can include:
Pastel yellow, orange
Feathers
Staying by a pond with ducks
Being surrounded by ducks
Fashion
This is a list of common fashion items in the aesthetic.
Overalls
Cardigans
Jeans/Ripped Jeans
Sneakers
Clothes with animals on them
Embroidered animals, plants, and insects
Bucket hats
Duck hoodies/onesies
Turtlenecks
Raincoats
Boots
Braided hair
Loose hair
Ponytails
Accessories
Flower crowns
Duck related jewelry
Floral Jewelry
Duck backpacks
Entertainment
The Ugly Duckling by Hans Christian Andersen
Make way for Ducklings by Robert McCloskey
The Fuzzy Duckling by Jane Werner Watson
Duckling Days by Sarah Lean
The Itsy Bitsy Duckling by Jeffery Burton
Have you Seen my Duckling? by Nancy Tafuri
Activities
Feeding ducks
Going to the park
Laying in the grass
Swimming
Standing in the rain
Reading
Cloud watching
Painting and drawing
Crocheting
Gallery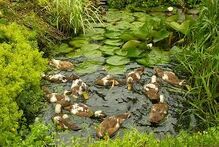 Community content is available under
CC-BY-SA
unless otherwise noted.