watch 02:34
Wiki Targeted (Games)
Play Sound

This page is currently in the process of being re-written.
Dark academia is a popular academic aesthetic that revolves around classic literature, the pursuit of self-discovery, and a general passion for knowledge and learning. It is one of several variations, each with a unique subject focus. Dark academia's best-known visual variations stem primarily from European cultures.
The upper class of this time period emphasized a liberal education, where Latin, rhetoric, and classics were taught- subjects that are seen as unusual and slightly esoteric, creating an allure that presents schooling as not dreary or boring, but one that cultivates a learned person that learns for the sake of joy.
Other than the romanticization of learning, there is illicitness, danger, and mystery. Secret societies, cults, and murder are subjects within the aesthetic.
People who use this aesthetic are usually referred to as dark academics. However, using this term in real life would cause some confusion as academics are synonymous with researchers and professors, while dark academics have no credentials.
Criticism
Aestheticization of unhealthy behavior
Dark academia has been criticized for its apparent encouragement of unhealthy behavior in the pursuit of both the aesthetic itself and academic achievement.[1][2] Stress and procrastination related to education, depression and its symptoms, unhealthy sleep habits, including both under and oversleeping, and excessive consumption of coffee, are frequently referenced and discussed in dark academic communities.
Western Eurocentrism
Dark academia focuses predominantly on languages, literature, architecture, art, poetry and fashion originating from Western Europe and has been consequently criticized as Eurocentric. Many dark academics have rejected an exclusionary interpretation of dark academia and encouraged academics to include non-Western languages, literature, architecture, and clothing in their conceptions and use of the aesthetic.[3][4][5]
History
This section is under construction
It is important to note that in multiple ways, Dark Academia is not new. Rather, it is a continuation of different pre-existing aesthetics that had a basis in artistic periods, literature, and mannerisms surrounding the upper class, as discussed in the introduction and visuals section. The Dark Academia aesthetic referred to in this article is within the context of mid-late 2010s-early 2020s internet culture wherein users, largely teenagers, discuss the contents of the page online. This phenomenon is largely confined to youth culture on social media such as tumblr, Instagram, and Tiktok.
The largest and most notable influence on the aesthetic is the ideas and lifestyles of Romantic-era nobles and intellectuals such as Lord Byron, Percy Shelley, Mary Shelley, and Edmund Burke.
The later Aesthetic and Decadent movement, headed by Oscar Wilde, lends the "dandy" and homosexual aspects of the internet aesthetic.
All of these historic periods were reflected in Donna Tartt's The Secret History. The sublime, picturesque, and beautiful are concepts frequently repeated by the narrator, Richard Papen; the main characters vacation in a remote mansion and get drunk, discuss intellectually stimulating topics, and lived decadently, like the Romantic poets did in their famed Geneva trip[6]; and the ritual for Bacchanal is a representation of the same fascination with the irrational.
The tag "Dark Academia" originated sometime around 2015 on tumblr and had a relatively smaller reach, and referred to the main work that started the aesthetic: The Secret History.[7] The aesthetic resembled a book club more than a true aesthetic, and users largely communicated through asks and reblogs to discuss the work itself, with less of an influence placed on fashion and lifestyle.
The exact user who coined the term is currently unknown, and new information would be appreciated.
The aesthetic evolved over time from an aesthetic that had a small community, was learned through osmosis, and
Visuals
Dark Academia as a whole utilizes the colors black, dark brown, forest green, dark orange, cream, gold, and burgundy. The photographs tend to be dimly lit, as to give the appearance of illumination through only candle light, a sun-less day, or light being unable to reach the interiors of a deep, alcove-filled room. As such, chiaroscuro, the contrast between light and dark, is a common motif within images and outfits. White statues in the dark, pale skin (see Eurocentricism) contrasting dark clothing, and the art movements described below are examples of this style. Often, photo editing is employed to increase the shadows of the image.
The artworks utilized in Dark Academia come from the periods typically associated with European civilization: Renaissance, Baroque, Neoclassical, Academic, Romantic, Aesthetic, and Pre-Raphaelite periods are the paintings that are the most commonly reblogged, with subjects such as anatomical studies, vanitas, Christian and Classical mythology, and portraiture of people wearing clothing in the Dark Academia colors.
Sculpture is always done in white marble and in the styles of Renaissance, Baroque, and Neo-classical. Technique, such as in the illusion of flesh, psychological presence, diaphonous fabric, and drapery, is admired.
Gothic, Beaux-Arts, and Neoclassical architecture are featured frequently in dark academic images, as most of the prestigious campuses, museums, and libraries were built in this style. Other common buildings are Baroque palaces that evoke masked balls, English manor houses, and Victorian streets. Some of the most common buildings reblogged are: the campuses of Harvard, Oxford, and Cambridge; the Isabella Stewart Gardner museum; the Gloucester Cathedral; and the Musee d'Orsay.
The romanticization of studying, journaling, and letter-writing is demonstrated through appreciation for calligraphy and stationary. Fountain pens and typewriters are proudly displayed, and users would often take images of the results of their notebook entries, not unlike Studyblr. However, their writing is cursive, and decorations are sparse.
Images associated with literature are another common photo subject. Antique books, screenshots of e-books with highlighted lines, annotations, and typography are common. Latin, ancient Greek, English, and French are popular in dark academia both as subjects of linguistic study and in aesthetic images of text. A recent tumblr trend is the use of "comparatives/parallels/collections," which are short compilations of 5-10 quotes from poetry, literature, or scripts from different works that center around one motif such as "the kitchen table" and "women and horror." Occassionally, paintings or photographs may be included.
Nature can make an appearance in the aesthetic, mostly in the form of British moors, autumnal forests, and occasional images of seaside cliffs. Dreary weather such as fog and rain enhances the gloomy nature of this aesthetic. This fuether adds to the romanticism of sneaking into the forest to do pagan rituals, as well as creating a connection to the poetry of the American Romantics. The influence of the Picturesque and the Sublime, as outlined in the work of Edmund Burke, is another aspect of this.
Boarding school imagery, such as school uniforms, living in a dormitary, and running away, is more common in younger users. Here, the sense of mystery, danger, and kinship are enhanced, and the professionalism and sophistication connotations are lessened.
Cafe society is also another influence on the aesthetic. Coffee shops are associated with both the flaneurs of 19th-century Paris and the contemporary stressed college students of today. As such, that space is romanticized, and images of coffee, people-watching, and studying within the space is popular.
Violent imagery addresses the "dark" moniker. Like in the novels and films, murder and death are popular subjects. This is displayed through murder weapons that are also aesthetically pleasing, i.e. vials of poison, ornate daggers, and even occasional images of guns. Blood, such as on clothing or on white statues (bashing someone's head) is another example. Graveyards are also another location that is commonly reblogged due to the connotations with Gothic literature and memento mori.
For the purposes of citation, as well as a way to view inspiration, here is a link to the Wayback Machine's snapshots of the dark academia tag on tumblr.

Media
Dark Academia media tends to fall into two types: the first is media that is established as classic, also known as part of "the canon," meaning that the work is considered by academics to have artistic merit and is worthy of academic study. The second group is media that is not studied by academic professionals, and may often be "pop" literature, which means it only seeks to entertain instead of create a philosophical dialogue. They are included here for the resemblance to Dark Academia visuals and tropes, as outlined in the introduction and visuals section. This is why this media list is technically not aesthetically cohesive; the first type spans different eras and explores different topics, leading to a varied list.
Note that what is classified as high literature is connected to critiques of Eurocentrism in Dark Academia.

Books
Please do not list books by authors in the list below. By author surname:
The Women in the Dunes by Kōbō Abe
The Lessons by Naomi Alderman
The Rachel Papers by Martin Amis
Bunny by Mona Awad
Ninth House - Leigh Bardugo
Possession by A.S. Byatt
The Infernal Devices by Cassandra Clare
The Shakespeare Secret by Jennifer Lee Carrell
The Glass Essay by Anne Carson
Belle du Seigneur by Albert Cohen
The Woman in White by Wilkie Collins
A Study In Scarlet by Arthur Conan Doyle
The Marriage Plot by Jeffrey Eugenides
The Bacchae and Medea by Euripides
Madame Bovary by Gustave Flaubert
Maurice by E. M. Forster
The Magus by John Fowles
The Likeness by Tana French
Mythos, Heroes and Troy by Stephen Fry
The Lake of Dead Languages by Carol Goodman
The Lie Tree by Frances Harding
The Hunchback of Notre Dame and Les Misérables by Victor Hugo
The Bone Houses by Emily Lloyd-Jones
Dead Poets Society by N.H. Kleinbaum
A Separate Peace by John Knowles
Nada by Carmen Laforet
Women in Love by D.H. Lawrence
The Disreputable History of Frankie Landau-Banks and We Were Liars by E. Lockhart
Oleanna by David Mamet
The Year of the Gadfly by Jennifer Miller
Songs of Achilles by Madeline Miller
The Starless Sea - Erin Morgenstern
Paradise Lost and Paradise Regained by John Milton
I'll Give You The Sun by Jandy Nelson
A Deadly Education by Naomi Novik
The Satyricon by Petronius
In Search of Lost Time by Marcel Proust
If We Were Villains by M. L. Rio
The Harry Potter Series - J.K. Rowling
Memoirs of a Woman Doctor by Nawal El Saadawi
Season of Migration to the North by Tayeb Salih
Gaudy Night by Dorothy L. Sayers
Frankenstein, or: A Modern Prometheus by Mary Shelley
Antigone by Sophocles
The Prime of Miss Jean Brodie by Muriel Spark
The Glitter and the Gold by Consuelo Vanderbilt
Brideshead Revisited by Evelyn Waugh
The Truants by Kate Weinberg
A Little Life by Hanya Yanagihara
Memoirs of Hadrian by Marguerite Yourcenar
Authors
By author surname:
Dante Alighieri
Maya Angelou
Aristotle
Jane Austen
James Baldwin
Beat Generation (post-war literary movement)
The Brontë sisters
Albert Camus
Geoffrey Chaucer
Emily Dickinson
Fyodor Dostoyevsky
F. Scott Fitzgerald
Federico García Lorca
Nicolai Gogol
Homer
Shirley Jackson
Franz Kafka
John Keats
Count Lautréamont
H.P. Lovecraft
Milton
Vladimir Nabokov
Friedrich Nietzsche
Sylvia Plath
Plato
Edgar Allan Poe
Alexander Pushkin
Arthur Rimbaud
Sappho
V.E. Schwab
William Shakespeare
Sophocles
Noel Streatfield
Donna Tartt
Leo Tolstoy
Virgil
Walt Whitman
Oscar Wilde
Virginia Woolf
Osamu Dazai
Arthur Conan Doyle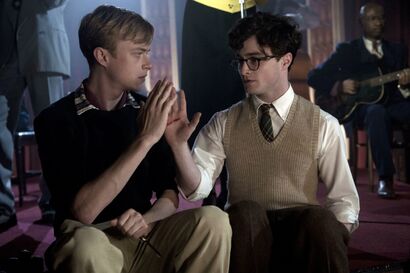 Movies
By year released:
The Invisible Man (1933)
Rope (1948)
In a Lonely Place (1950)
Dial M for Murder (1954)
Compulsion (1959)
If... (1968)
Suspiria (1977 or 2018)
Another Country (1984)
Clue (1985)
Maurice (1987)
Withnail & I (1987)
The Unnameable (1988)
The Chocolate War (1988)
True Believer (1989)
Dead Poets Society (1989)
Metropolitan (1990)
Scent of a Woman (1992)
School Ties (1992)
Peter's Friends (1992)
Shallow Grave (1994)
Heavenly Creatures (1994)
Immortal Beloved (1994)
Total Eclipse (1995)
Good Will Hunting (1997)
Wilde (1997)
The Ninth Gate (1999)
The Talented Mr. Ripley (1999)
Wonder Boys (2000)
The Emperor's Club (2002)
The Pianist (2002)
The Dreamers (2003)
Bright Young Things (2003)
Mona Lisa Smile (2003)
Capote (2005)
Like Minds (2006)
The Prestige (2006)
The Great Debaters (2007)
Brideshead Revisited (2008)
Detachment (2011)
Only Lovers Left Alive (2013)
Kill Your Darlings (2013)
The Imitation Game (2014)
Testament of Youth (2014)
The Riot Club (2014)
The Theory of Everything (2014)
Victor Frankenstein (2015)
The Danish girl (2015)
The Bookstore (2017)
Phantom Thread (2017)
Disobedience (2017)
Colette (2018)
Mary Shelley (2018)
Vita & Virginia (2018)
The Nightingale (2018)
Tolkien (2019)
Elisa y Marcela (2019)
Knives Out (2019)
Las Niñas (2020)
Shirley (2020)
Podcasts
Aaron Mahnke's Cabinet of Curiosities
Dark Dice
Lore
Myths & Legends
The Magnus Archives
The Penumbra Podcast
Prose Talk
Unwell A Midwestern Gothic Mystery
Unobscured
The White Vault
TV Shows
The Alienist
Ares
Deadly Class
Elementary
Endeavour
Freud
Gentleman Jack
Hannibal
His Dark Materials
House of Anubis
How To Get Away With Murder
Mindhunter
Murdoch Mysteries
The Magicians
The Nevers
The Night Gallery
Ordeal By Innocence
Penny Dreadful
Pennyworth
Poldark
Prodigal Son
The Queen's Gambit
Sherlock
Taboo
The Umbrella Academy
A Series of Unfortunate Events
Anime & manga
91 Days
Ancient Magus Bride
Baccano
Black Butler (especially the Public School Arc)
Black Museum: The Ghost and the Lady
Bungou Stray Dogs
The Cat Returns
Code Geass
Colorful
Doukyuusei
From Up on Poppy Hill
Fullmetal Alchemist
Gankutsuou: The Count of Monte Cristo
The Garden of Words
Gosick
Hyouka
Joker Game
Little Witch Academia
Monster
Moriarty the Patriot
The Promised Neverland
The Royal Tutor
Saga of Tanya the Evil
Snow White with the Red Hair
Steamboy
Vampire Knight
Violet Evergarden
Whisper of the Heart
Tales from Earthsea
The Wind Rises
Your Name
Plays
Another Country
The Inheritance
Spring Awakening
Total Eclipse
Musicals
The Count of Monte Cristo
Dogfight
Frankenstein: A New Musical
Hadestown
Jekyll & Hyde
Light in the Plazza
Natasha Pierre and The Great Comet of 1812
Phantom of the Opera
Spring Awakening
Sweeney Todd
Twisted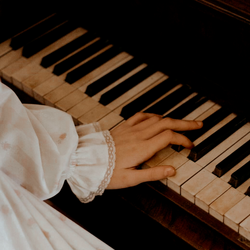 Music
The music typically associated with Dark Academia evokes the same historical and elite aesthetic through classical music, which is regarded as upper-class and traditional, and multiple people within these types of families were encouraged to pursue music to create a wide profile of skills. Specifically, the classical music used is wide-ranging, as Baroque (Bach, Vivaldi) and Romantic (Liszt, Tchaikovsky) is included. The classical music used in the aesthetic is typically in a tone more romantic, melancholy, epic, or severe, as it is played in the minor key and with piano and strings.
Contemporary alternative music is extremely popular, arguably more so than the classical, and allows for the lyrics to carry across the motifs of romance, betrayal, mystery, and crime. Classical allusions and metaphors with nature are also common techniques. There is a wide variety of instrumentation, although some common characteristics are: the use of strings or piano, slow and deep bass, and backing or echoing vocals. Tempo tends to be slower, and like in classical, has a more melancholy and contemplative tone. The genres that these songs fall into are alternative rock and indie.
Musicians
Albums
Songs
Symphony No.9 "From the new world" by Antonín Dvořák
Icarus by Bastille
Goodnight Socialite by The Brobecks
Dionysus by The Buttertones
For the Damaged Coda by Blonde Redhead
Danse Macabre by Camille Saint-Saens
Apocalypse by Cigarettes After Sex
Claire de Lune, La Mer by Claude Debussy
Piano Concerto Op.54 by Edvard Grieg
Symphony No.8 "Unfinished" by Felix Mendelssohn
Violin Concerto No.2 by Felix Mendelssohn
Seven Devils, Shake It Out by Florence and the Machine
The French Library by Franz Gordon
Hungarian Rhapsody No.2 by Franz Liszt
Piano Trio No.2 by Franz Schubert
Etude No.11 by Frédéric Chopin
Achilles Come Down by Gang of Youths
Cherry Wine, Dinner and Diatribes, Take Me To Church, Wasteland, Baby! by Hozier
Hungarian Dance No.1 by Johannes Brahms
Babooshka, Cloudbusting by Kate Bush
I Want to Feel Alive by Lighthouse and the Whaler
The Louvre, Sober (II), Writer in the Dark by Lorde
Piano Concerto No.3, Piano Sonata No.8 "Pathétique" by Ludwig van Beethoven
Ann Wants to Dance by Papooz
Lotta True Crime by Penelope Scott
Pruit Igoe by Phillip Glass
Feed the Machine by Poor Mans Poison
Dr Mabuse by Propaganda
Danse Russe (Moderato / Swan Lake Act 3) Violin Concerto by Pyotr Ilyich Tchaikovsky
Piano Sonata No.2 by Robert Schumann
Piano Concerto No.2, Sonata for 2 Violins Op.56 by Sergei Prokofiev
Piano concerto No.2, Prelude No.5 by Sergei Rachmaninoff
Tom's Diner by Suzanne Vega
Breakout by Swing Out Sister
Persephone by Tamino
Theme for Bioshock 1
Reflections by Toshifumi Hinata
Your Woman by White Town
Fantasia in D Minor by Wolfgang Amadeus Mozart
Nocturnal waltz - Johannes Bornlöf
O children - Nick Cave & The Bad Seeds
Spotify
Official Aesthetics Wiki playlist
The Aesthetics Wiki staff creates official Spotify playlists for aesthetics, which compile the songs most frequently featured on existing playlists dedicated to those aesthetics. This is the official Aesthetics Wiki Spotify playlist for dark academia: Dark Academia
Playlists
Comics
An Unkindness of Ravens
Deadly Class
Fangs
Hooky
Morning Glories
Promethea
Purple Hyacinth
The Umbrella Academy
Unwritten
Your Throne
Activities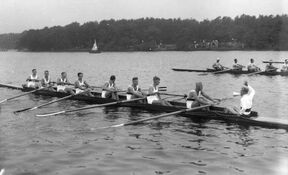 Sports
Rowing
Fencing
Tennis
Badminton
Cricket
Rugby
Golf
Swimming
Polo
Equestrian sports
Running
Javelin, discus, wrestling while covered in oil (ancient Grecian Olympics)
Archery
Ballet, ballroom dancing, any traditional dance works
Pool (cue sports)

Games
Chess
Croquet
Backgammon
Cards: rummy, poker, blackjack, speed, whist, etc.
Video Games
1917: The Prologue
Alicemare
Alter Ego
Bloodborne
Call of Cthulhu
Detention
Dishonored
GrimGrimoire
Layers of Fear
The Last Door Season 1
The Metamorphosis
The Room VR: A Dark Matter
Rusty Lake game series
Vampyr
What Never Was
Fran Bow
Crafts
Realistic drawing
Calligraphy
Painting
Bookbinding
Outings
Museums
Art galleries
Places of historical interest
Pubs, bars, and cafés
Parks and gardens
Places of worship
Graveyards
Theaters
The opera
Concerts
Libraries
Art stores
Bookshops
Special events
Independent bookstores
Other
Write essays
Research
Daydream
Read
Perform a play alone or to a pet
Play or practice an instrument
Fake your death
Draw or paint something
Reflect on the past
Journal
Admire cityscape/nature

Fashion
Dark Academia fashion emphasizes a high-class but vintage form of dress which is an amalgamation of different historical periods. Usual fabric choices are more upscale, like cashmere, wool, and tweed, but linen and cotton are also very common. Accessories are usually minimal, like bracelets, rings, pendants, watches, cuff-links, and other dapper add-on pieces.
The main inspiration for Dark Academic fashion comes from 1940s prep school uniforms, as seen in blazers, pleated skirts, and regimental striped ties. Stereotypes surrounding humanities professors also influenced the fashion. Tweed blazers with elbow patches are one of the "essentials" of a Dark Academic wardrobe, as explained here. Elements of the 1950s suburban American preppy look are often incorporated, such as sweater vests or sweaters worn tied over the shoulders.
Much of the fashion takes its cues from Donna Tartt's The Secret History, which contains mentions of distinctive and unusual pieces, as well as fashion brands. Pince nez, black trench coats, green pinstripe sport jackets, Gucci, and Ralph Lauren are some examples of how her attention to imagery codified some fashion choices.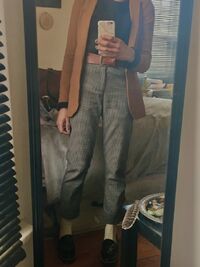 Stores & Brands
Tops
Turtlenecks
Oxford shirts
Fisherman's sweaters
Sweater vests
Light blouses
Large polo necks
Cable knit jumpers
Sailor-collar shirts
Jumpers
Shirt dresses
A-Line dresses
Blousons
Drop waist dress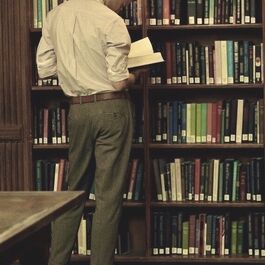 Bottoms
Dress pants
Ankle pants
High rise pants
Trousers
Cigarette pants
Linen shorts
Tweed trousers
Plaid skirts
Mid-length or long skirts
Pinafores
Sailor skirts
Pleated skirts
Pencil skirts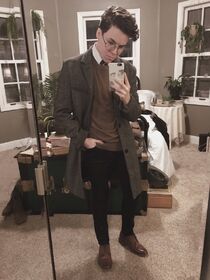 Outerwear
Cardigans
Blazers
Waistcoats
Pea coats
Suit jackets
Trenchcoats
Overcoats
Duffle coats
Chesterfield coat
Coat dresses
Smocks
Shoes
Oxfords/brogues
Loafers
Wingtips
Boat shoes
Dr. Martens
Mary Janes
Chelsea Boots
Accessories
Silver or gold jewelry
Broaches
Simple rings
Satchel
Wire-frame glasses
Short, neat fingernails
Belts that match your shoes
Knee-high socks
Watches
Sweaters tied over the shoulders
Undone or loosely tied ties
Dark-colored umbrellas
Kerchiefs/bandanas
Gallery
Resources
Reddit
Discord Servers
References