Dark Academia is an aesthetic that revolves around classic literature, the pursuit of self-discovery, and a general passion for knowledge and learning. It is one of several variations, each with a unique historical focus. Dark Academia's best-known visual variations stem primarily from European cultures.
Español: Dark Academia es una estética que gira en torno a la literatura clásica, la búsqueda del autodescubrimiento y una pasión general por el conocimiento y el aprendizaje. Es una de varias variaciones, cada una con su propio enfoque histórico único. Dark Academia proviene visualmente de las culturas europeas, al igual que con sus variaciones más conocidas.
Notes
While this aesthetic is not inherently negative, it has come under scrutiny as of late due to its seeming encouragement of classist attitudes (menial work being 'inferior' to mental work) and unhealthy behavior (sacrificing sleep, relationships, mental health, and personal care for study). If you are interested in this aesthetic, please be sure to embrace the positive aspects and be cautious of the potentially harmful ones.
While the aesthetic lends itself to Eurocentrism, let it be known that every culture is welcome, and you are encouraged to find ways to blend your heritage with this aesthetic. Do not feel as if you are not Dark Academic enough because of where you are from. (And feel free to share POC book recs in the comments or in the main list.)
The Style Guide is first and foremost a guide, not a uniform. Its purpose is to inspire, not hold you back. You should not feel inadequate if you cannot wear everything featured on the list; those are mere suggestions and what you wear is up to you. If you prefer following the aesthetic to a 'T', good for you; if you prefer taking inspiration from it and wearing bits and pieces, that's great too.
There is no place for any type of shaming or bullying within the community. Be it against race, religion, social status, sexuality, education, ability, body type, etc., any form of discrimination is not welcome. The academic community is here for anyone who holds an appreciation for learning.
Notas
Si bien esta estética no es intrínsecamente negativa, últimamente ha sido objeto de escrutinio debido a su aparente aliento de las actitudes clasistas (el trabajo servil es 'inferior' al trabajo mental) y el comportamiento poco saludable (sacrificar el sueño, las relaciones, la salud mental y el cuidado personal para estudiar). Si está interesado en esta estética, asegúrese de aceptar los aspectos positivos y tenga cuidado con los potencialmente dañinos.
Si bien la estética se presta al eurocentrismo, deje que se sepa que todas las culturas son bienvenidas y se le anima a encontrar formas de combinar su herencia con esta estética. No se sienta como si no fuera lo suficientemente académico oscuro debido a su lugar de origen. (Y siéntase libre de compartir las recomendaciones de libros de POC en los comentarios o en la lista principal).
La Guía de estilo es ante todo una guía, no un uniforme. Su propósito es inspirarte, no detenerte. No debe sentirse inadecuado si no puede usar todo lo que aparece en la lista; esas son meras sugerencias y lo que te pongas depende de ti. Si prefieres seguir la estética a una 'T', bien por ti; si prefieres inspirarte en él y usar partes y piezas, eso también es genial.
No hay lugar para ningún tipo de vergüenza o intimidación dentro de la comunidad. Ya sea en contra de la raza, la religión, el estatus social, la sexualidad, la educación, la capacidad, el tipo de cuerpo, etc., cualquier forma de discriminación no es bienvenida. La comunidad académica está aquí para cualquier persona que aprecie el aprendizaje.
Variations
Art Academia: Based on classical art movements.
Chaotic Academia: A mixture of Dark Academia and 'chaotic' or 'feral' aesthetics like Goblincore. Cramming for tests at midnight and riding caffeine highs for days until you crash. Committing arson with your friends and shoplifting stationery. Spraying 'fuck the electoral college' on brick walls. Falling asleep in the school library and saving all your Monster Energy cans.
Classic Academia: A mix of the Academia family of aesthetics. Impeccable notes in class. Leatherbound bags crammed with textbooks and pens. Lots of coffee with scones, and even more late nights. A wide vocabulary (that people constantly comment on). Lives in the library.
Darkest Academia: Similar to Dark Academia, but with darker, even sinister visuals and more serious themes.
Fairy Academia: Based on the visual aesthetics of Victorian and Edwardian childhood.
Grey Academia: A deliberate push back against the elitist attitudes, Eurocentric view, and exclusion of neurodivergent, POC, and people part of the LBGTQ+ community from some (not all) academia spaces. There is a trend towards more diverse styles of dress, tools used, and a focus on activism and social issues.
Light Academia: Similar to Dark Academia, but with a distinctly lighter color palette and overall aesthetic.
Pagano-Lovecore: A hybrid of Academia aesthetics and Lovecore, based in love in Greco-Roman mythology.
Pastel Academia: Less mature than the other forms of academia, pastel academia showcases much more colour and a childlike "Kawaii" aesthetic. It is less Eurocentric and more based around Japanese styles of study and clothing.
Romantic Academia: More closely related to Light Academia with a focus on romance and elements of Baroque.
Theatre Academia: Based on plays, operas, and other musically inclined types of art
Witchy Academia: Similar to Dark Academia, but with themes of Witchcraft.
Writer Academia: Also known as Writercore or Poetcore, a branch of Academia specifically for writers. Writer Academia holds the belief that anyone could be a writer, or poet, as long as you enjoy writing and hold a passion for your work.
Popularity Analysis
This section is under construction
Timeline
09/1992- The Secret History, the blueprint for the aesthetic, is published by Alfred A. Knopf
30/6/20 - The New York Times publishes "Academia Lives — on TikTok"
Inspirations
Books
By author surname:
The Women in the Dunes by Kōbō Abe
The Lessons by Naomi Alderman
The Rachel Papers by Martin Amis
Emma and Pride and Prejudice by Jane Austen
Little Women by Louisa May Alcott
Bunny by Mona Awad
The Wizard of Oz by L. Frank Baum
Jane Eyre by Charlotte Brontë
Wuthering Heights by Emily Brontë
The Secret Garden and A Little Princess by Frances Hodgson-Burnett
Possession by A.S. Byatt
The Shakespeare Secret by Jennifer Lee Carrell
Alice's Adventures in Wonderland by Lewis Carroll
The Glass Essay by Anne Carson
The Canterbury Tales by Geoffrey Chaucer
Belle du Seigneur by Albert Cohen
The Woman in White by Wilkie Collins
A Study In Scarlet by Arthur Conan Doyle
House of Leaves by Mark Z. Danielewski
The Divine Comedy by Dante Alighieri
The Three Stigmata of Palmer Eldritch by Phillip K. Dick
Crime And Punishment and The Brothers Karamazov by Fyodor Dostoyevsky
Ella Minnow Pea by Mark Dunn
The Marriage Plot by Jeffrey Eugenides
The Bacchae and Medea by Euripides
The Great Gatsby and The Beautiful and the Damned by F. Scott Fitzgerald
The Butchering Art by Lindsey Fitzharris
Madame Bovary by Gustave Flaubert
The Magus by John Fowles
Maurice by E. M. Forster
The Likeness by Tana French
Mythos, Heroes and Troy by Stephen Fry
Memoirs of a Geisha by Arthur Golden
The Lake of Dead Languages by Carol Goodman
The Magicians by Lev Grossman
The Lie Tree by Frances Harding
The Hunchback of Notre Dame and Les Misérables by Victor Hugo
The Iliad and The Odyssey by Homer
Never Let Me Go by Kazuo Ishiguro
The Bone Houses by Emily Lloyd-Jones
Dead Poets Society by N.H. Kleinbaum
A Separate Peace by John Knowles
Women in Love by D.H. Lawrence
To Kill A Mockingbird by Harper Lee
We Were Liars and The Disreputable History of Frankie Landau-Banks by E. Lockhart
The Cthulhu Mythos by H.P. Lovecraft
Oleanna by David Mamet
Songs of Achilles by Madeline Miller
The Year of the Gadfly by Jennifer Miller
The Wild Girls by Path Murphy
Lolita and The Real Life of Sebastian Knight by Vladimir Nabokov
I'll Give You The Sun by Jandy Nelson
A Deadly Education by Naomi Novik
1984 by George Orwell
Special Topics in Calamity Physics by Marisha Pessl
Red, White & Royal Blue by Casey McQuistion
Paradise Lost and Paradise Regained by John Milton
The Satyricon by Petronius
In Search of Lost Time by Marcel Proust
If We Were Villains by M. L. Rio
Harry Potter 1-7 by J.K. Rowling
Memoirs of a Woman Doctor by Nawal El Saadawi
Season of Migration to the North by Tayeb Salih
The Catcher in the Rye by J.D. Salinger
Gaudy Night by Dorothy L. Sayers
Vicious by Victoria Schwab
Frankenstein, or: A Modern Prometheus by Mary Shelley
A Series of Unfortunate Events and All the Wrong Questions by Lemony Snicket
Antigone by Sophocles
The Prime of Miss Jean Brodie by Muriel Spark
The Strange Case of Dr. Jekyll and Mr. Hyde by Robert Louis Stevenson
Dracula by Bram Stoker
Perfume By Patrick Süskind
The Goldfinch and The Secret History by Donna Tartt
War and Peace, Anna Karenina, and The Death of Ivan Illyich by Leo Tolstoy
The Glitter and the Gold by Consuelo Vanderbilt
Brideshead Revisited by Evelyn Waugh
The Truants by Kate Weinberg
Leaves of Grass by Walt Whitman
The Importance of Being Earnest and The Picture of Dorian Gray by Oscar Wilde
A Room of One's Own by Virginia Woolf
A Little Life by Hanya Yanagihara
Memoirs of Hadrian by Marguerite Yourcenar
Ninth House by Leigh Bardugo
The Strange Case of the Alchemist's Daughter by Theodora Goss
Authors
By author surname:
Dante Alighieri
Maya Angelou
Aristotle
Jane Austen
James Baldwin
Beat Generation (post-war literary movement)
The Brontë sisters
Albert Camus
Geoffrey Chaucer
Emily Dickinson
Fyodor Dostoyevsky
F. Scott Fitzgerald
Nicolai Gogol
Donna Tartt
Greek Tragedies
Homer
Franz Kafka
John Keats
Count Lautréamont
H.P. Lovecraft
Milton
Vladimir Nabokov
Friedrich Nietzsche
Sylvia Plath
Plato
Edgar Allan Poe
Alexander Pushkin
Arthur Rimbaud
Sappho
Friedrich Schiller
V.E. Schwab
William Shakespeare
Lemony Snicket (pen name)
Sophocles
Noel Streatfield
Leo Tolstoy
Virgil
Walt Whitman
Oscar Wilde
Virginia Woolf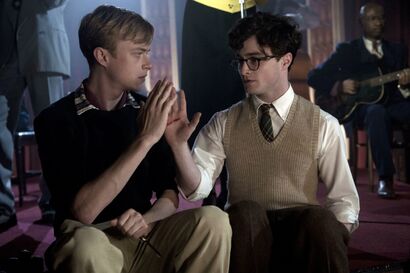 Movies
By year released:
The Invisible Man (1933)
Rope (1948)
Dial M for Murder (1954)
If... (1968)
Picnic at Hanging Rock (1975)
Suspiria (1977 or 2018)
Another Country (1984)
Maurice (1987)
The Unnamable (1988)
Heathers (1988)
The Chocolate War (1988)
Dead Poets Society (1989)
Metropolitan (1990)
School Ties (1992)
Peter's Friends (1992)
Scent of a Woman (1992)
Manhattan Murder Mystery (1993)
Heavenly Creatures (1994)
Little Women (1994 + 2019)
Se7en (1995)
Total Eclipse (1995)
Wilde (1997)
Good Will Hunting (1997)
The Ninth Gate (1999)
October Sky (1999)
The Talented Mr. Ripley (1999)
The Emperor's Club (2002)
The Pianist (2002)
Bright Young Things (2003)
Mona Lisa Smile (2003)
The Dreamers (2003)
Capote (2005)
Pride and Prejudice (2005)
Jane Eyre (2006)
Like Minds (2006)
The Prestige (2006)
The Great Debaters (2007)
Northanger Abbey (2007)
Brideshead Revisited (2008)
Dorian Gray (2009)
Black Swan (2010)
The King's Speech (2010)
Hugo (2011)
Midnight in Paris (2011)
Moonrise Kingdom (2012)
Les Miserables (2012)
The Great Gatsby (2013)
Kill Your Darlings (2013)
Only Lovers Left Alive (2013)
The Theory of Everything (2014)
Testament of Youth (2014)
The Imitation Game (2014)
The Boxtrolls (2014)
Carol (2015)
Victor Frankenstein (2015)
Fantastic Beasts & Where To Find Them (2016)
Phantom Thread (2017)
Colette (2018)
Mary Shelley (2018)
Vita & Virginia (2018)
Tolkien (2018)
Knives Out (2019)
The Goldfinch (2019)
Jojo Rabbit (2019)
Portrait of a Lady on Fire (2019)
Podcasts
The Magnus Archives
Unwell A Midwestern Gothic Mystery
The Penumbra Podcast
Wayward Guide for the Untrained Eye
A Scottish Podcast
The White Vault
Dark Dice
Prose Talk

TV Shows
The Alienist
Ares
Brideshead Revisited (1981)
Carnival Row
Chilling Adventures of Sabrina
Deadly Class
Downton Abbey
Endeavour
Freud
Hannibal
House of Anubis
How To Get Away With Murder
Mindhunter
The Magicians
The Night Gallery
Ordeal By Innocence (2018)
Peaky Blinders
Penny Dreadful
The Queen's Gambit
A Series of Unfortunate Events
Sherlock (BBC)
The Umbrella Academy
What We Do In The Shadows
You (2019-)
Anime & Manga
Black Butler (especially the Public School Arc)
Beastars
Whisper of the Heart
Baccano!
The Cat Returns
From Up on Poppy Hill
Howl's Moving Castle
The Wind Rises
Steamboy
The Garden of Words
Snow White with the Red Hair
Your Name
Hyouka
Colorful
Bungou Stray Dogs
Violet Evergarden
Code Geass
Ancient Magus Bride
The Royal Tutor
91 Days
Joker Game
Vampire Knight
Moriarty the Patriot
Gankutsuou: The Count of Monte Cristo
Black Museum: The Ghost and the Lady
The Promised Neverland
Fullmetal Alchemist
Plays
Spring Awakening
Othello
Total Eclipse
Another Country
The Inheritance
Hamlet
Macbeth
Musicals
Anastasia
Assassins
Bare: a Pop Opera
Beetlejuice
Dogfight
Dracula
Frankenstein: A New Musical
Hadestown
Hamilton
Heathers
Jekyll & Hyde
Les Miserables
Light in the Plazza
Natasha Pierre and The Great Comet of 1812
Phantom of the Opera
Something Rotten
Spring Awakening
The Count of Monte Cristo
Twisted
Artists
Claude Monet
Vincent Willem Van Gogh
Rembrandt
Sofonisba Anguissola
Leonardo Da Vinci
Caravaggio
Artemisia Gentileschi
Michelangelo
Camille Claudel
Roberto Ferri
Trevor Henderson
Jean-Michel Basquiat
Jenny Holzer
Raphaël
Frida Kahlo
Alfred Kubin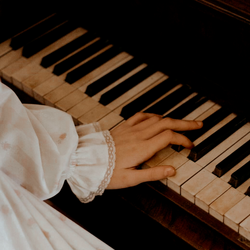 Music
Musicians
Albums
Songs
La Mer by Claude Debussy
Claire de Lune by Claude Debussy
The French Library by Franz Gordon
Reflections by Toshifumi Hinata
Dr Mabuse by Propaganda
Dreams by the Cranberries
Yellow by Coldplay
Cloudbusting by Kate Bush
Babooshka by Kate Bush
Breakout by Swing Out Sister
Theme for Bioshock 1
Pruit Igoe by Phillip Glass
Nearly Witches (Ever Since We Met) by Panic! At The Disco
Goodnight Socialite by The Brobecks
Cape Town by The Young Veins
Killer Queen by Queen
Bohemian Rhapsody by Queen
Good Old Fashion Lover Boy by Queen
Mad IQs by I DONT KNOW HOW BUT THEY FOUND ME
Nobody Likes the Opening Band by I DONT KNOW HOW BUT THEY FOUND ME
Body by Mother Mother
Burning Pile by Mother Mother
Wasteland, Baby! by Hozier
Take Me to Church by Hozier
Cherry Wine by Hozier
We fell in love in october by girl in red
Writer in the Dark by Lorde
The Louvre by Lorde
Sweater Weather by The Neighbourhood
Video Games by Lana Del Ray
Young and Beautiful by Lana Del Ray
Hope is a dangerous thing for a woman like me to have - but I have it by Lana Del rey
Shake it Out by Florence + the Machine
Dog Days are Over by Florence + the Machine
Seven Devils by Florence + the Machine
Do I Wanna Know? by Arctic Monkeys
Your Woman by White Town
Tom's Diner by Suzanne Vega
For the Damaged Coda by Blonde Redhead
I Want to Feel Alive by Lighthouse and the Whaler
Ann Wants to Dance by Papooz
Bust Your Kneecaps by Pomplamoose
Feed the Machine by Poor Mans Poison
Piano concerto No.2 by Rachmaninoff
Hungarian Dance No.1 by Brahms
Piano Conerto Op.54 by Grieg
Fantasia in D Minor by Mozart
Piano Sonata No.8 "Pathétique" by Beethoven
Piano Concerto No.3 by Beethoven
Prelude No.5 by Rachmaninoff
Violin Concerto by Tchaikovsky
Danse russe (Moderato / Swan Lake Act 3) by Tchaikovsky
Violin Concerto No.2 by Mendelssohn
Symphony No.8 "Unfinished" by Mendelssohn
Hungarian Rhapsody No.2 by Liszt
Piano Sonata No.2 by Schumann
Danse macabre by Saint-Saens
Sonata for 2 Violins Op.56 by Prokofiev
Piano Concerto No.2 by Prokofiev
Etude No.11 by Chopin
Symphony No.9 "From the new world" by Dvorak
Piano Trio No.2 by Schubert
Icarus by Bastille
Flash by Lewis OfMan
Achilles Come Down by Gang of Youths
Blind You by Didirri
Dionysus by The Buttertones

Comics
Morning Glories
Unwritten
The Umbrella Academy
Promethea
Fangs
Purple Hyacinth
Hooky
An Unkindness of Ravens
Your Throne
Playlists
Activities
This list is adapted from Snookersneek's Tumblr post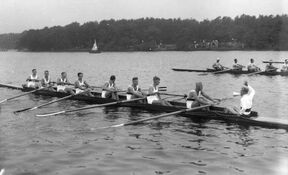 Sports
Rowing
Fencing
Tennis
Badminton
Cricket
Rugby
Golf
Swimming
Polo
Skiing
Water Polo
Figure/Ice Skating
Running (to prepare for chasing after your lover, or maybe for being chased by the cops after an act of civil disobedience)
Boxing
Javelin, discus, wrestling while covered in oil (ancient Grecian Olympics)
Archery
Ballet, ballroom dancing, any traditional dance works
Snooker/Pool/Billiards
The "Oscar Wilde approach" (aka no sports)

Games
Chess
Croquet
Backgammon
Checkers
Cards: rummy, poker, blackjack, speed, whist, etc.
Cluedo/Clue
Video Games
Dishonored (series)
Bully (series)
Layers of Fear (more so the 1st game)
Twisted Wonderland
Fran Bow
Little Misfortune
Fire Emblem: Three Houses
Crafts
Knitting
Crocheting
Embroidery
Weaving
Lacemaking
Gardening
Realistic Drawing
Pottery
Cooking
Sewing
Calligraphy
Painting
Needlepoint
Bookbinding
Outings
Museums
Art galleries
Places of historical interest
Pubs/Bars/Cafes (bonus points for sketching people around you)
Parks and gardens
Churches/Synagogues/Temples/Mosques/Quaker meeting houses (these are quiet places to think, most will be welcoming as long as you are respectful, and remember to not take pictures.)
Graveyards (be respectful and leave if there is a funeral happening or people are mourning, remember that graves are not props for photoshoots.)
The theatre
The opera
Concerts
Libraries
Art stores
Bookshops
Sporting Events
Special events (tours of local schools/universities, open houses, etc. It's an opportunity to learn and spark local intrigue because of your dark, mysterious, and alluring demeanor.)
Searching for small independent bookstores
Other
Write essays (they don't have to be intellectual, just about something you are passionate about)
Research
Daydream (about preventing the burning of the Library of Alexandria)
Write about a murder/heist
Read something light (suggestions above)
Read aloud
Dress up
Perform a play alone or to a pet
Play or practice an instrument
Take a bath
Fake your death (murder perhaps?)
Draw or paint something (it doesn't have to be good, it just has to be yours)
Write a narrative piece
Watch a movie
Write a movie review
Reflect on the past
Journal
Read philosophy
Admire cityscape/nature (wherever you're at)
Read a physical book
Write poems for compilation
Practice calligraphy
Learn bookbinding
Write lists about something you like

Fashion
The main inspiration for Dark Academic fashion comes from 1940s prep school uniforms. Elements of the 1950s suburban American preppy look are often incorporated, such as sweater vests or sweaters worn tied over the shoulders. The main colour scheme is black, grey, beige, brown, cream, ivory, dark green, burgundy, and soft yellow. Usual fabric choices are more upscale, like cashmere, wool, and tweed, but linen and cotton are also very common. Accessories are usually minimal, like bracelets, rings, pendants, watches, cuff-links, and other dapper add-on pieces.
(La principal inspiración para el estilo Dark Academic proviene de los uniformes escolares de preparación de los años 40. El esquema de color principal es negro, gris, beige, marrón, crema, marfil, verde oscuro, burdeos, un amarillo suave. Las opciones habituales de telas son más exclusivas, como la cachemira, la lana y el tweed, pero el lino y el algodón también son muy comunes. Los accesorios suelen ser mínimos, como pulseras, anillos, colgantes, relojes, gemelos y otros complementos elegantes.)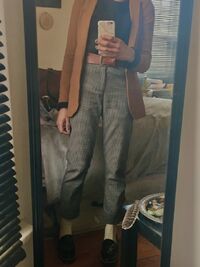 Stores & Brands
Tops
Turtlenecks
Oxford shirts 
Fisherman's sweaters 
Sweater vests 
Light blouses 
Large polo necks
Cable knit jumpers
Sailor-collar shirts
Jumpers
Shirt dresses
A-Line dresses
Blousons
Drop waist dress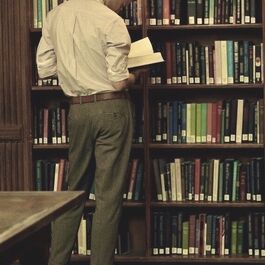 Bottoms
Dress pants
Ankle pants
High rise pants
Trousers
Cigarette pants
Linen shorts
Tweed trousers
Plaid skirts
Mid-length or long skirts
Pinafore
Sailor skirts
Pleated skirts
Pencil skirts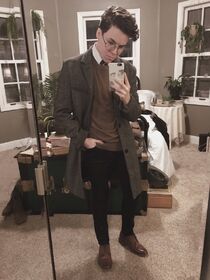 Outerwear
Cardigans
Blazers
Waistcoats
Pea coats
Suit jackets
Trenchcoats
Overcoats
Duffle coats
Chesterfield coat
Coat dresses
Smock
Shoes
Oxfords/brogues
Loafers
Wingtips
Boat shoes
Dr. Martens
Mary Janes
Chelsea Boots
Accessories
Silver or gold jewelry
Broaches
Simple rings
Satchel
Wire-frame glasses
Short, neat fingernails
Belts that match your shoes
Knee-high socks
Watches
Sweaters tied over the shoulders
Undone or loosely tied ties
Dark coloured umbrellas (for that ominous feeling you give strangers)
Kerchiefs/bandanas
Gallery
Resources
Tumblr
Instagram
Reddit
Pinterest Boards
Discord Servers
Community content is available under
CC-BY-SA
unless otherwise noted.