Dark Academia is an aesthetic that revolves around classic literature, the pursuit of self-discovery, and a general passion for knowledge and learning. Common themes within this aesthetic include books, poetry, friendship, prep/private schools, classical music, coming of age, existentialism, death/murder, social class, and romance. Writing poetry in notebooks, reading the classics, going to local coffee shops, bookstores, libraries, and museums also fuel this aesthetic.
Subcategories
Edit
This list comes from Cordurose on Tumblr.
Classic Academia: beige trench coats, wool sweaters. plaid skirts. think femme fatale, but educated. sobbing in bed late at night over the secret history or dead poets society. tea with milk and sugar. subsequent tea stains.
Darkest Academia: running through the rain, dimly lit by streetlights. brown tweed jackets, dress shoes. cold fingers and colder gazes. french-pressed black coffee, piping hot. dark, candlelit rooms with ancient wood floors/walls. 
Light Academia: white cable-knit sweaters, sparkly eyes and foggy glasses. going to art museums and falling in love with every portrait, every sculpture. caressing the petals of a rose, hearing the crinkle of leaves underfoot.
Witchy Academia: burning candles while reading or doing homework. black turtlenecks, velvet skirts. walking through the forest in autumn. passing a graveyard and feeling a greyish presence. waiting anxiously for samhain.
Romantic Academia: writing flowery poetry about someone you'll never speak to (guilty oops). a cozy alizarin sweater, pleated skirts. slow dancing around your room to the beatles. curling up with warm, pallid cups of tea and a book.
Scholarly Academia: impeccable notes in class. leather bound bags crammed with textbooks and pens. lots of coffee with scones, and even more late nights. a wide vocabulary (that people constantly comment on). lives in the library.
Theatre Academia: Shakespeare, all the time - quoting, reading, praying for a school production of a Midsummer Night's Dream or the Crucible. Memorizing lines in the wings. taking on your character's traits, even outside the theater. Reciting poetry on a dark night, all alone in a room. Hands filled with quotes from poems.
Additional verified spins on Dark Academia:
Fairy Academia, a feminine version with pretty visuals - think Picnic at Hanging Rock
Art Academia, a cross between this and Art Hoe
Pagano-Lovecore, a clash between Lovecore and Dark Academia. Focuses on love in Greco-Roman mythology - think beautiful statues, doves, old jewellery, ancient love poetry, etc.
You can easily modify your take on  -Academia for any subject you study, or any other aesthetic you're into.
Inspirations
Edit
Crime And Punishment by Fyodor Dostoyevsky
Anna Karenina by Leo Tolstoy
The Divine Comedy by Dante
Books of Blood by Clieve Barker
The Wild Girls by Path Murphy
Les Fleurs du Mal by Baudelaire
The Lessons by Naomi Alderman
Truly Devious by Maureen Johnson
The Secret History by Donna Tartt
If We Were Villains by M. L. Rio
Maurice by E. M. Forster
Possession by A.S. Byatt
The Picture of Dorian Gray by Oscar Wilde
The Truants by Kate Weinberg
The Prime of Miss Jean Brodie by Muriel Spark
The Raven Cycle by Maggie Stiefvater (tangentially related)
Memoirs of Hadrian by Marguerite Yourcenar
A Little Life by Hanya Yanagihara
Brideshead Revisited by Evelyn Waugh
Never Let Me Go by Kazuo Ishiguro
All for the Game by Nora Sakavic
The Year of the Gadfly by Jennifer Miller
The Rachel Papers by Martin Amis
Ninth House by Leigh Bardugo
Jane Eyre by Charlotte Brontë
The Lake of Dead Languages by Carol Goodman
Oleanna by David Mamet
Gaudy Night by Dorothy L. Sayers
The Bacchae by Euripides
Special Topics in Calamity Physics by Marisha Pessl
The Marriage Plot by Jeffrey Eugenides
The Iliad and The Odyssey by Homer
A Separate Peace by John Knowles
Antigone by Sophocles
Leaves of Grass by Walt Whitman
Frankenstein: The Modern Prometheus by Mary Shelley
Dracula by Bram Stoker
A Room of One's Own by Virginia Woolf
The Hound of the Baskervilles by Arthur Conan Doyle
The Woman in White by Wilkie Collins
The Butchering Art by Lindsey Fitzharris
The Likeness by Tana French
To Kill A Mockingbird by Harper Lee
Miss Peregrine's Home for Peculiar Children by Ransom Riggs
Belle de Seigneur by Albert Cohen
Wuthering Heights by Emily Brontë
The Bone Houses by Emily Lloyd-Jones
The Catcher in the Rye by J.D. Salinger
The Great Gatsby by F. Scott Fitzgerald
Vicious by Victoria Schwab
Dead Poets Society by N.H. Kleinbaum
A Series of Unfortunate Events by Lemony Snicket
The Satyricon by Petronius
Carry On by Rainbow Rowell
In Search of Lost Time by Marcel Proust
The Goldfinch by Donna Tartt
Bunny by Mona Awad
Memoirs of a Woman Doctor by Nawal El Saadawi
The Women in the Dunes by Kōbō Abe
Season of Migration to the North by Tayeb Salih
The Harry Potter Series by JK Rowling
The Importance of Being Earnest by Oscar Wilde
The Montague Siblings Series by Mackenzi Lee
The Magicians by Lev Grossman
The Shakespeare Secret by Jennifer Lee Carrell
Authors/Writing Styles
Edit
Ayn Rand
Fyodor Dostoyevsky
Leo Tolstoy
Sappho
Greek Tragedies
Plato
Aristotle
Homer
Virgil
Dante Alighieri
Vladimir Nabokov
Alexander Pushkin
Sophocles
Arthur Conan Doyle
Lemony Snicket (pen name)
Edgar Allan Poe
H.P. Lovecraft
Jane Austen
Beat Generation (post-war literary movement)
Sylvia Plath
Virigina Woolf
Shakespeare
Oscar Wilde
Walt Whitman
Emily Dickinson
John Keats
F. Scott Fitzgerald
Rimbaud
Lautréamont
V.E. Schwab
Maya Angelou
Rope (1948)
If... (1968)
Picnic at Hanging Rock (1975)
Suspiria (1977 or 2018)
Maurice (1987)
Dead Poets Society (1989)
School Ties (1992)
Manhattan Murder Mystery (1993)
Heavenly Creatures (1994)
Wilde (1997)
Mona Lisa Smile (2003)
The Dreamers (2003)
The Notebook (2004)
Jane Eyre (2006)
The Great Debaters (2007)
Northanger Abbey (2007)
Brideshead Revisited (1981 television series, 2008 movie)
Cracks (2009)
Dorian Gray (2009)
Black Swan (2010)
Kill Your Darlings (2013)
The Riot Club (2014)
Egon Schiele: Death and the Maiden (2016)
Indignation (2016)
Call Me By Your Name (2017)
Colette (2018)
Postcards From London (2018)
Vita & Virginia (2018)
The Goldfinch (2019)
Season 4 of Riverdale
Claude Monet
Vincent Van Gogh
Rembrandt
Sofonisba Anguissola
Leonardo Da Vinci
Caravaggio
Artemisia Gentileschi
Michelangelo
Camille Claudel
Roberto Ferri
Trevor Henderson
Jean-Michel Basquiat
Jenny Holzer
Raphaël
Gymnopedies
Lord Huron
Bastille
Danganronpa
Fire Emblem:Three Houses
Doki Doki Literature Club
Anime/Manga
Edit
Black Butler (especially the Public School Arc)
Kakegurui
Ouran High School Host Club
Beastars
Tokyo Ghoul
Mirai Nikki
Death Note
Assassination Classroom
Naruto (NOT Shippuden)
Another
Angel Beats
High School of the Dead
Playlists
Edit
Activities
Edit
This list is adapted from Snookersneek's Tumblr post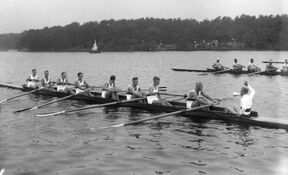 Rowing
Fencing
Tennis
Badminton
Cricket
Rugby
Golf
Swimming
Polo
Water Polo
Equestrian
Figure/Ice Skating
Running (to prepare for chasing after your lover, or maybe for after your act of civil disobedience and the cops are after you)
Boxing
Javelin, discus, wrestling while covered in oil (ancient Grecian Olympics)
Archery
Ballet, ballroom dancing, any traditional dance works
Acting, theatre is one of the purest forms of art
Climbing
Snooker/Pool/Billiards
Aerial silks
Aerial hoop
Oscar Wilde approach (aka no sports)
Chess
Croquet
Backgammon
Checkers
Cards: rummy, poker, blackjack, speed, whist, etc.
Cluedo/Clue (for the murder of course)
Scrabble
Knitting
Embroidery
Weaving
Lacemaking
Gardening
Realistic Drawing
Cooking
Sewing
Calligraphy
Painting
Needlepoint
Bookbinding
Museums
Art galleries
Places of historical interest
Pubs/Bars/Cafes (bonus points for sketching people around you)
Parks and gardens
Churches/Synagogues/Temples/Graveyards/Quaker meeting houses (these are quiet places to think, most will be welcoming as long as you are respectful, and remember to not take pictures.)
The theatre
The opera
Concerts
Libraries
Horse Racing
Art stores
Sporting Events
Special events (memorial services, tours of local schools/universities, open houses, etc. It's an opportunity to learn and spark local intrigue because of your dark, mysterious, and alluring demeanor.)
Searching for small independent bookstores
Things to do When Bored
Edit
Write essays (doesn't have to be intellectual, just about something you are passionate about)
Research
Daydream (about preventing the burning of the Library of Alexandria)
Write about a murder/heist.
Read something light (suggestions above)
Read aloud
Dress up
Perform a play alone or to a pet
Play or practice an instrument
Take a bath
Fake your death (murder perhaps?)
Draw or paint something (it doesn't have to be good, it just has to be yours)
Write a narrative piece
Watch a movie
Write a movie review
Reflect back on the past
Journal
Read philosophy
Admire cityscape/nature (wherever you're at)
Read a physical book
Write poems for compilation
Watch every single 'Greek Gods as vines' compilations on YouTube and count that as studying (but actually study if you need to, that's definitely DA)
Practice calligraphy
Learn bookbinding
The main inspiration for Dark Academic style comes from 1940's prep school uniforms. The main color scheme is black, grey, beige, brown, cream, ivory, dark green, burgundy, a soft yellow. Usual fabric choices are more upscale, like cashmere, wool, and tweed, but linen and cotton are also very common. Accessories are usually minimal, like bracelets, rings, pendants, watches, cuff-links, and other dapper add-on pieces.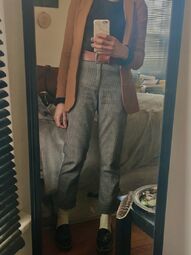 Turtlenecks
Oxford shirts 
Fisherman's sweaters 
Sweater vests 
T-Shirts 
Light blouses 
Large polo necks
Cable knit jumpers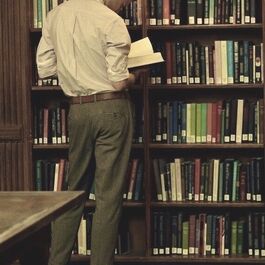 Dress pants
Ankle pants
High rise pants
Trousers
Cigarette pants
Linen shorts
Black slacks
Tweed trousers
Plaid skirts
Mid-length/long skirts
Pinafore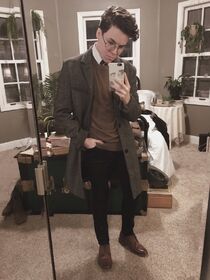 Outerwear
Edit
Oxfords/brogues
Loafers
Wingtips
Boat shoes
Dr. Martens
Mary Janes
Accessories
Edit
Silver or gold jewelry
Broaches
Simple rings
Satchel
Wire-frame glasses
Short neat fingernails
Belts that match your shoes
Knee-high socks
While this aesthetic is not inherently negative, it has come under scrutiny as of late due to its seeming encouragement of elitist attitudes (menial work being 'inferior' to mental work) and unhealthy behavior (sacrificing sleep, relationships, mental health, and hygiene for study). If you are interested in this aesthetic, please be sure to embrace the positive aspects and be sure to regulate the ones which can be very easily twisted into negative things.
Resources
Edit
Instagram
Edit
Community content is available under
CC-BY-SA
unless otherwise noted.