Fire Emblem Warriors: Three Hopes - The Loop
Play Sound

Comfy/Cozy is an aesthetic that relates to the feeling of being comfortably at rest with your surroundings, neatly fit in your place, relieved and well-suited. It includes having pets, reading books, and sitting next to a fireplace or window, or on a bed. Usually associated with Autumn and pumpkin spices, and with swift movements instead of challenges. Others also include reading, sleeping, watching movies or just doing nothing whilst at ease and petting your dog/cat.
Specific themes associated are messy beds as the symbolize one's unwillingness to wake up, and dreams (either be asleep or wish to). While the aesthetic is not as predominant on the several social media sites out there yet, such as Instagram, TikTok, and others, the community notably began and prospered on Tumblr.
It should be noted that this aesthetic sometimes is confused with Light Academia due to similar color palette and some key values. However, one main difference between the two is that Light Academia(and all aesthetics with the Academia suffix, for that matter) is that it is focused on learning, studying, and a thirst for knowledge. Comfy/Cozy's main idea is being comfortable, relaxed, and happy.
Visual
Elements of the Comfy/Cozy visual aesthetic include:[1]
Stuffed animals
Playing on your electronics
Always tired
Beds and Sleep
Being terribly unorganized
Watching funny animal videos
Watching YouTube
Bags under your eyes
Baked goods
Aromatherapy (candles, essential oils, incense, etc.)
Warm drinks
Soft lighting
Sweet treats
Activities
Relaxing hobbies
Writing/journaling
Practicing mindfulness
Fashion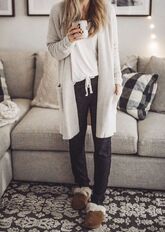 Key fashion features include many things, usually not tight and very casual:
Warm woolly socks
Soft blankets
Cardigans
Warm beverage in a mug
Knitted, woolly and oversized sweaters.
Messy buns
Glasses
Scarves
Flannel
Sweatpants
Graphic pajamas
No Makeup
Slippers
Clothes with animals on them
Music
Comfy/Cozy music typically has relaxing vibes and melodies. Music for this aesthetic are calming and un-distracting - allowing people to focus on themselves and their hobbies rather than stress.
Artists
Bear's Den
Caamp
Gregory Alan Isakov
Hozier
Johnny Flynn
Lorde
Ocie Elliott
Passenger
Taylor Swift
The Lumineers
Albums
A Larum by Johnny Flynn
Animal Crossing: New Horizons Original Soundtrack by Nintendo Entertainment Planning & Development
EP by Ocie Elliott
Evermore by Taylor Swift
Folklore by Taylor Swift
Live In Amsterdam by Bear's Den
Sometimes It's Something, Sometimes It's Nothing at All by Passenger
That Sea, the Gambler by Gregory Alan Isakov
The Weatherman by Gregory Alan Isakov
Songs
Brown Trout Blues by Johnny Flynn
Bulb Went Black by Johnny Flynn
Home by Tall Ships
Lost River by Murder by Death
Only Son of the Falling Snow by Bear's Den
San Luis by Gregory Alan Isakov
So Long, Honey by Caamp
Southern Star by Gregory Alan Isakov
Take Me Back by Sarah Jarosz
The Way That I Love You by Passenger
Media
TV Shows
Anne with an E (2017-2019)
Bee and Puppycat (2013-)
Friends (1994-2004)
Over the Garden Wall (2014)
Anime
A Place Further than the Universe (2018)
Anohana (2011)
From Up on Poppy Hill (2011)
Given (2020)
Hyouka (2012)
I Want to Eat Your Pancreas (2018)
Laid-Back Camp (2020-2021)
Sound! Ephonium (2015-2016)
The Tale of Princess Kaguya (2013)
Violet Evergarden (2018)
Whisper of the Heart (1995)
Movies
Brooklyn (2015)
Call Me by Your Name (2017)
Fantastic Mr. Fox (2009)
Little Women (either 1994 or 2019)
The Guernsey Literary and Potato Peel Pie Society (2018)
The Short History of the Long Road (2019)
Books
The Little Book of Hygge by Meik Wiking
Resources
External links to help get a better understanding of this aesthetic.
Pinterest Boards
Gallery
References