Arcane: League of Legends - The Loop
Play Sound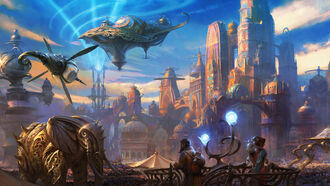 Aetherpunk or Magicpunk is probably one of the most diverse punk genres. High fantasy magic creates technology more befitting of a sci-fi world, from magical sky-ships to magical powered weapons. Architecture has guiled gold, enchanted lighting, stained glass art, and ancient pagan/wiccan imaging; Think Asgard from the Marvel Franchise.
Subgenre: Dungonpunk
Dungeonpunk takes the idea of magical technology, makes it grittier, and mixes in heroic fantasy and sword and sorcery tropes. Imagine wizards in trenchcoats, and magical cocaine being peddled on the streetcorners of cities.